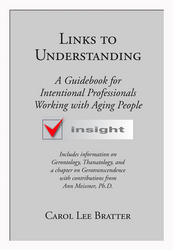 Links to Understanding: A Guidebook for Intentional Professionals Working with Aging People
Minneapolis, MN (PRWEB) May 8, 2008
Beaver's Pond Press announces "Links to Understanding: A Guidebook for Intentional Professionals Working with Aging People" by author and life transitions coach, Carol Lee Bratter. "Life as we know it now is changing with the aging of the baby boomer generation," Carol writes. "The U.S. population age 65 and over is expected to double in size within the next 25 years and we need to be ready for it."
Links to Understanding by Carol Lee Bratter, presents the realities of the workplace to the "Intentional Professionals," those working as care providers, counselors, therapists, chaplains, and other human services specialists within the aging community. It serves as a guidebook that integrates our theoretical understanding of gerontological issues with practical day-to-day applications. The topics covered in this book are timely, acknowledging issues facing not only our aging population but also we who are interconnected by our commitment to the qualities of a life well lived.
Partial list of themes: Caring for yourself • Use and abuse of personal power • Intimacy and isolation • Leaving a legacy • Family and group dynamics • Fear of death • Forgiveness • Denial • Caregiver's bill of rights
"Ms. Bratter has brilliantly given professionals the helpful and inspiring guide she envisions in her prologue. Her words on practitioners' use of power, on case management, forgiveness, and gerotranscendence are especially powerful and useful." ---Barbara Swanson Arnoldsen, M.S. (School Administration and Counseling)
About the Author:
Carol Lee Bratter's background in career development, human resources, and the multiple issues facing our aging population is extensive. Over the past several years, Carol has undergone intensive training in multiple interrelated disciplines, e.g., adult development, death and dying, and lay chaplaincy for the elderly. The Governor on Minnesota recently appointed Carol for a four-year term on the Minnesota Board on Aging, where she serves on the Public Policy Committee.
"Links to Understanding: A Guidebook for Intentional Professionals Working with Aging People" by Carol Lee Bratter, from Beavers Pond Press, ISBN 1-59298-224-7, retails for $22.95 and is available from Ingram or our distributor Bookhouse Fulfillment: 800-901-3480. For more information or to contact the author, please visit http://www.carolleebratter.com.
###