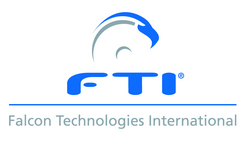 Our universal SmartWhite technology eliminates the confusion from selecting and purchasing printable media, and simplifies media inventory management for businesses that use both inkjet and thermal disc printing systems
RAK, United Arab Emirates (PRWEB) May 7, 2008
Falcon Technologies International (FTI), the worldwide leading manufacturer of optical data storage discs for professional and archival applications, today introduced a complete line of recordable discs featuring innovative SmartWhite printable surfaces. Designed to yield the highest quality printing results with both inkjet and thermal printers, SmartWhite printable surfaces are available on FalconMedia Pro DVD-R, CD-R and Blu-ray Disc recording media.
"Our universal SmartWhite technology eliminates the confusion from selecting and purchasing printable media, and simplifies media inventory management for businesses that use both inkjet and thermal disc printing systems," said Mr. Adel Michael, co-founder and CEO of Falcon Technologies International (FTI). "Ideal for a wide range of applications from service bureaus and video/film production houses, to corporate offices, government agencies, houses of worship and medical institutions, FalconMedia Pro DVD-R, CD-R and Blu-ray Discs featuring SmartWhite Printable surfaces deliver the unsurpassed quality for which FTI is known."
FTI SmartWhite printable discs combine crisp, clear surface printing capabilities with exceptional recording and playback performance. The surfaces are designed to dry quickly and lock-in vivid color. The discs feature print-to-hub surfaces that enable printing all the way to each disc's hub for maximum visual impact.
Universal SmartWhite printable surface technology is available in combination with a host of other advanced FTI media technologies. With its innovative 24k gold reflective layer formulations, FTI has achieved an archival lifespan of more than 300 years for FalconMedia Pro Full Gold EP recordable CD-R media, and more than 100 years for FalconMedia Pro Gold EP recordable DVD-R media. A 24k gold reflective layer provides maximum resistance to degradation caused by environmental factors such as corrosion, a major cause of failure in standard media. Both solutions have been subjected to accelerated aging conditions, confirming the discs' archival life-spans.
FTI's Ultra Hard Coat (UHC) anti-scratch protection is the most reliable solution to protect mission-critical data against potential disc surface contaminants and mishandling. Applied to the media's polycarbonate layer during the manufacturing process, UHC technology dramatically increases the disc's scratch resistance and also helps fend off other contaminants such as smudges from fingerprints. Because most spills and other contaminants cannot readily bind to the UHC surface, the disc easily wipes clean. Performance is not impacted, and the data is protected.
FalconMedia Pro SmartWhite printable surface DVD-R, CD-R and Blu-ray Discs are available in Cake box 50 or 100 horizontal tape wrapped spindles.
Innovation and Leadership
FalconMedia Pro DVD-R, CD-R and Blu-ray Disc recording media solutions are designed to unyielding quality standards. To ensure absolute quality consistency, all FTI media is manufactured by highly skilled staff at a single state-of-the-art facility in the UAE. Only FTI recording media solutions provide Certified Swiss Quality (CSQ), validated by FTI's certification by Swiss ISO organizations, widely considered among the world's most stringent ISO bodies.
FTI is on the forefront of the most advanced optical recording technologies. The unique inorganic recording material formulation deployed for FTI's recordable Blu-ray Discs helps achieve exceptional stability for longer archival and superior data protection. Partnered with a leading Japan-based Blu-ray technology provider, FTI gains access to advancements before others, giving its customers a valuable competitive advantage.
About FTI
A leading manufacturer and supplier of optical data storage discs for professional and archival applications, Falcon Technologies International (FTI) offers solutions to OEM brands, private labels, distributors and retailers. FTI is an industrial group with headquarters and a manufacturing plant in Ras Al Khaimah, United Arab Emirates. The company is setting a new industry benchmark by providing superior quality media solutions and rapid fulfillment through groundbreaking manufacturing and logistics operations. FTI is committed to excellence in every aspect of its business from product development and manufacturing, to logistics, distribution and account support.
FTI is dedicated to creating optical media solutions that deliver the ultimate performance, reliability and durability for professional applications. An unyielding commitment to excellence supported by a world-class production facility featuring cutting-edge production equipment, as well as skilled international management and highly-trained, dedicated personnel are key components of FTI's strategy.
FTI is a joint investment between Swiss-based investment and management company, PrimusTech Investments, and a large group of UAE corporate and private investors. FTI's marketing and sales activities are conducted by the company's fully owned, Swiss-based subsidiary, FTI Europe SA.
For additional information, please contact:
Falcon Technologies International
American Liaison Office
Mr. Fred Perez, National Sales Director
2368 Willet Way
Pleasanton, California 94566 - USA
Phone: (510) 507-3811
Fax: (801) 460-9948
E-mail: fred.perez @ falconrak.com
Falcon Technologies International LLC
Ms. Martine Pillard, VP Marketing & Distribution
P.O. Box 31017
Ras Al Khaimah, United Arab Emirates
Phone: +971 7 244 6943
Fax +971 7 244 6937
UAE Cell: +971 50 487 20 47
Swiss Cell: +41 79 446 27 0
E-mail: martine.pillard @ falconrak.com
# # #