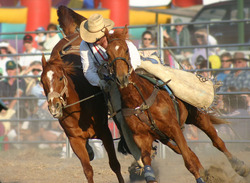 The ambassador program is just another way that USHorse.biz is striving to serve the equestrian business community and strengthening its online presence
Burbank, CA (PRWEB) May 12, 2008
USHorse.biz, the one-stop horse portal, has launched an ambassador program to find interested individuals to submit state-specific equestrian news for posting on USHorse.biz.
Individuals selected as USHorse.biz ambassadors will be responsible for submitting weekly information on equestrians and horse-related activities in their state. Content could include postings on authors, artists, trainers, manufacturers of equestrian products, realtors, barns/stables, riding clubs and organizations, as well as newsworthy information on local horse lovers.
In return for their services, ambassadors will receive, courtesy of USHorse.biz, personal assistance in marketing and promoting their services and an opportunity to be featured in USHorse.biz monthly newsletters, press releases and email blasts.
"The ambassador program is just another way that USHorse.biz is striving to serve the equestrian business community and strengthening its online presence," says USHorse.biz CFO Patricia Kinnaman. "With over 500,000 hits a month and growing, we're an ideal marketing resource for horse-related businesses of any size, as well as equestrian organizations, such as local riding clubs and associations."
To obtain more details about the ambassador program or learn how USHorse.biz can help your business, visit http://www.USHorse.biz or contact Judy Walker at 818-551-1251 or judy@ushorse.biz.
Featured Sponsors: DiscountHorse.com, Pulsed Energy Technologies
###