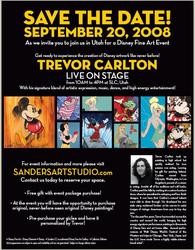 For the past five years Trevor has traveled across the country and around the world, bringing his high energy signature performance paintings to thousands of Disney fans and art lovers alike. Annual performances at Walt Disney World's Festival of the Masters and trips to Chicago, New York, Japan and the U.K. have made Trevor a highly visible international artist
Ogden, UT (PRWEB) May 8, 2008
Sanders Art Studio.com in Ogden, Utah is pleased to announce " A Disney Fine Art Live Performance Event with Trevor Carlton -- SLC, Utah, September 20, 2008"
Get ready to experience the creation of Disney artwork like never before! With his signature blend of artistic expression, music, dance, and high energy entertainment, artist Trevor Carlton brings a unique experience to the stage, sure to inspire, energize, and engage audiences of all ages.
Special Guest: Trevor Carlton
Date: Saturday 20, 2008
Time: 10 AM to 4 PM
Performance Location: SLC, Utah
Free gift with event package purchase!
At the event you will have the opportunity to purchase original, never-before-seen original Disney paintings!
Pre-purchase your giclee and have it personalized by Trevor!
Exclusive Gift with Purchase Disney Pin!
Artist Bio:
Trevor Carlton took up painting in high school but quickly realized his true passion was acting. Leaving his gift for painting behind, Carlton moved from Olympia, Washington, to Los Angeles in pursuit of a career in acting. Amidst all of his auditions and call backs, Carlton paid the bills by working at a custom furniture store, where he specialized in antiquing and faux finish designs. It was here that Carlton's natural talents were able to shine through. He developed his own style using reclaimed lumber as his canvas to paint images of vintage Americana from pop to hay day jazz.
"For the past five years Trevor has traveled across the country and around the world, bringing his high energy signature performance paintings to thousands of Disney fans and art lovers alike. Annual performances at Walt Disney World's Festival of the Masters and trips to Chicago, New York, Japan and the U.K. have made Trevor a highly visible international artist".
Sanders CC - established in 1960, is Northern Utah's leader in Numismatic Coins and Collectibles. They carry a wide selection of US Coins, including the US Presidential Coin program, and World Coins.
The Managing Director of Sanders CC is KC Sanders; KC has a long history working for the Walt Disney Company. He worked in the Disney Specialized Businesses area for over five years, creating Disney Fine Art Exhibitions at the Disneyland Resort, Walt Disney World Resort, and Disneyland Paris Resort. He is bringing his knowledge, expertise and passion back to Utah to showcase the magic of Disney for the community.
Disney elements © Disney
Artist appearances are subject to space and availability and are not guaranteed. Subject to change without notice. Quantities are limited. Limited-Editions vary in size.
###