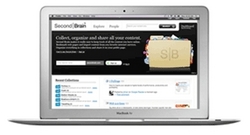 Oslo, Norway (PRWEB) May 8, 2008
Second Brain, which aims to create the web's largest user-generated content library, announced recently the release of its Beta 2.0 for the end of May. To celebrate the event the company is organizing a contest that will reward the most active users with prizes varying from a brand new MacBook Air to Amazon gift certificates.
The contest runs till after the launch of Beta 2.0 version at the end of May. New and current users of Second Brain will be competing for a MacBook Air, an Xbox 360, an iPod nano and Amazon gift certificates. Judges will be the teams of Second Brain and cosponsor Mashable. Where most start-ups fail to reward user contribution as they should, Second Brain wants to acknowledge people and their efforts appropriately - after all, Second Brain is a user-generated content platform.
What makes Second Brain unique is its concept of people and knowledge growing together and its content centric approach. This is not just another social aggregation site, but rather a hub of collaboration in the ecosystem of the web.
Beta 2.0 and beyond will be all about tuning the platform to support more and more features as well as simplifying the interface and refining the user experience. Supporting new services along with simplifying the service addition process are critical for us. More API's, user education, navigation, new collections icons and all aspects that enhance usability are in the pipeline and will continue to be.
About Second Brain:
Founded in January 2006 by Lars Teigen, Second Brain is a content aggregation platform where people can organize all their web content and bookmarks in a personal library. The company provides powerful tools to discover and manage content, discover highly relevant content through others and to discover other people through content. Ultimately, Second Brain's vision is to become the place for All Your Content.
###