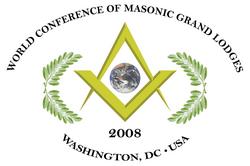 Arlington, VA (Vocus) May 8, 2008
The Freemasons of the Nation's Capital, the Grand Lodge of Free And Accepted Masons of the District of Columbia, will welcome international Masonic dignitaries in an opening ceremony, May 8th at 9:00am in the Renaissance Washington, D.C. Hotel. This ceremony takes place as part of the 9th World Conference of Masonic Grand Lodges, 2008 through May 10th, 2008.
This conference will bring together international Masonic leaders comprised of high-level officials in government, business and civic service. Specifically, large delegations from Africa, Latin America and Europe are expected to be in attendance. The setting will be to discuss how Freemasonry can utilize its position to promote universal understanding, enlightened ideas, and goodwill globally.
Members of the press are invited to cover keynote speakers, banquets, award ceremonies and the World War II Memorial wreath-laying, commemorating the Freemasons who died during WWII. Congressman Joe Wilson (R-SC) will be honored during the conference with Freemasonry's Medal of Freedom for his commitment to preserving freedom and liberty worldwide. Congressman John Lewis (D-GA) will be awarded for his lifetime dedication to civil rights. A number of educational scholarships will also be presented at the closing banquet.
As the world's oldest and largest fraternal society with more than half of its membership in the United States, American Freemasonry has a rich history of involvement in the founding of America and her development for over two centuries. The 9th World Conference of Masonic Grand Lodges will be the largest international gathering of leaders of Freemasonry in Washington D.C. since the laying of the cornerstone of the U.S. Capitol building by President and Freemason George Washington on September 18, 1793.
For more information about all events please contact 202-686-1811. Media must RSVP due to security.
An Open Media Event schedule is attached.
###