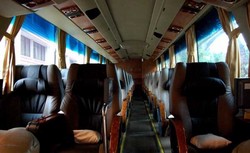 Odyssey is our first transport customer for the Moovbox in Malaysia and sets a new technological standard that others in the region must follow
Kuala Lumpur, Malaysia (PRWEB) May 8, 2008
Moovera Networks, a leading developer of fixed and mobile wireless communications systems, today announced that Odyssey Prestige Coaches Sdn Bhd has selected the Moovbox M Series mobile broadband gateway to deliver Internet connectivity to its fleet of luxury business-class passenger vehicles in Malaysia. Odyssey operates a premier coach service between Kuala Lumpur and Singapore targeted specifically at the business commuter, offering wide leather reclining seats, tables, AC power for laptops, movies on demand and gourmet meals. With the introduction of the Moovbox, Odyssey will offer free Wi-Fi Internet access to passengers while also keeping track of the fleet via Moovera's MoovManage GPS-based location service.
"The launch of our luxury coach service earlier this year redefined the standard for business-class passenger transportation in Malaysia," said Wan Adlan Rahman, Odyssey's Director. "The journey between KL and Singapore is a little over 350 kilometres and takes just over four hours, and we want our customers to be able to make the best possible use of this valuable time. With the Moovbox-enabled Internet access on every coach we can provide a Wi-Fi hotspot service for doing email, surfing the web and keeping in touch while on the move. It's yet another way for us to differentiate our operations, increase passenger footfall and ultimately drive revenues."
The Moovbox M Series delivers Wi-Fi Internet access on the Odyssey vehicles at speeds up to 3.6 Mbps by creating a bridge between the coach and a next-generation 3G HSPA (High Speed Packet Access) cellular broadband network from Celcom or Maxis. The Moovbox offers Ethernet connectivity for in-bus systems such as CCTV and telematics data, and includes built-in GPS for real-time fleet tracking.
"Odyssey is our first transport customer for the Moovbox in Malaysia and sets a new technological standard that others in the region must follow," said Jim Baker, founder and CEO of Moovera Networks. "Long-haul services lasting over an hour are ideal for in-vehicle Wi-Fi hotspots where passengers can make the best use of their time by getting online. Most importantly, Malaysian cellular operators are rapidly expanding high-speed wireless data coverage in urban areas and alongside major arterial roads throughout the country. Since the Moovbox is field-upgradeable to support emerging backhaul technologies such as WiMAX, transport operators like Odyssey will always be able to offer their passengers the fastest and most reliable Wi-Fi Internet connection available".
The Odyssey deployment was designed and managed by Webkey Systems Sdn Bhd, Moovera's Channel Partner in Malaysia and the surrounding region. Webkey Systems will equip up to fifteen Scania K94IB4 high decker vehicles with the Moovbox M Series device by early next year (an initial five Wi-Fi enabled vehicles went into service today).
The Moovbox mobile gateway is a ruggedised Wi-Fi access point and cellular router, offering multiple wide area network (WAN) radios for automatic failover between carriers, and features built-in GPS for real-time positioning. Moovbox products also offer secure Ethernet for ticketing, IP-CCTV, DVR and telematics equipment with remote in-bound access for device control, and supports plug-and-play upgradeability to future technologies such as WiMAX and LTE. The multi-user MoovManage service provides real-time device tracking, schedule adherence monitoring, remote device configuration, and Wi-Fi portal and usage statistics. More information is available online at the Moovera web site.
###