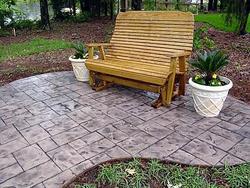 Yucaipa, CA (PRWEB) May 9, 2008
Explore the numerous options available with decorative stamped concrete applications. Growing online search data shows that concrete stamping is quickly becoming a popular remodel trend among homeowners and builders. With a struggling economy, homeowners are finding practical alternatives with concrete applications, and stamped concrete is a great way to remodel or build a beautiful driveway, patio, pool deck or walkway without the outrageous expense that comes with installing natural stone.
Stamped concrete, commonly referred to as patterned concrete or imprinted concrete, is concrete that is designed to resemble brick, slate, flagstone, stone, tile and even wood. Stamping, however, surpasses these traditional favorites in many ways, offering greater versatility, economy, long-term performance and ease of installation.
With the numerous design options possible with stamped concrete, zeroing in on a specific pattern and color scheme can be quite a challenge but well worth the time and effort. Start by looking at other stamped concrete installations in the neighborhood or visit an online photo gallery for hundreds of examples.
The initial cost to install stamped concrete can vary widely, depending on the prices for materials and labor in a local market and the complexity of the job. While costs may exceed those for plain concrete, they are competitive with and often times lower than the cost of installing natural stone and brick or precast pavers. The main reason being the labor component--some installers find it more economical to pour concrete and apply a pattern than to haul and place individual paving units by hand.
Read more about concrete.
Established in 1999, The Concrete Network's purpose is to educate consumers, builders, and contractors on popular decorative techniques and applications. These include stamped concrete, stained concrete floors, concrete countertops, polished concrete, and much more. In 2007 The Concrete Network Website had over 11 million visitors researching decorative concrete.
The site excels at connecting buyers with local contractors in their area through its Find a Concrete Contractor service. The service provides visitors with a list of decorative concrete contractors throughout the U.S. and Canada, and is fully searchable by 23 types of decorative concrete work and 202 regional areas throughout North America.
Attached photos courtesy of Specialty Concrete Products Inc.
###