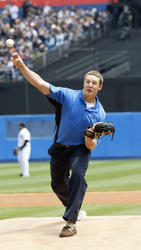 The New York Yankee organization has always been so supportive of the men and women who proudly serve in our military
New York (PRWEB) May 8, 2008
Augusta State University freshman Steven Voigt had the once-in-a-lifetime opportunity to walk to the center mound of Yankee Stadium and throw the ceremonial first pitch during Military Appreciation Day, May 3rd.
The first pitch was part of the New York Yankees' salute to America's military personnel which also paid tribute to fallen service members, including Voigt's father, Petty Officer Steven Voigt, a Navy SEAL who lost his life in the Persian Gulf while conducting helicopter operations in 1996.
Voigt and his grandmother, Ann, were invited to be part of the pre-game activities by the Special Operations Warrior Foundation (http://www.specialops.org), a Tampa-based organization that provides full college educations to the surviving children of special operations personnel killed in combat or training.
Voigt attends Augusta State University with the help of the Special Operations Warrior Foundation. He is studying Business Management and also plays baseball for the university's team, the Jaguars.
Before a sold-out crowd of fans who cheered him on, Voigt threw a perfect fast ball to Yankees catcher Jose Molina.
The Army's premiere parachute team, the Golden Knights, were unable to jump into the stadium due to the weather, they were on the field to present the Voigt family a personalized poster from the jump team. Country singer and former Army Ranger, Keni Thomas, performed the National Anthem.
As they have done for the past 28 years, the Special Operations Warrior Foundation provides full scholarship funding for the sons and daughters of fallen special operations personnel. The foundation provides college scholarship grants, not loans, to cover tuition, books, fees, room and board.
"The New York Yankee organization has always been so supportive of the men and women who proudly serve in our military," said John T. Carney Jr., SOWF President and Chief Executive Officer. "We were thrilled to have one of our students throw the first pitch and honored on the field."
The Warrior Foundation, a four-star rated charity by Charity Navigator, has seen 123 of its students graduate college, and currently has 111 students enrolled in colleges and universities across the country. There are another 500 children who have yet to reach college age in the foundation's program. In 2007, the Warrior Foundation provided $1.5 million in scholarship grants and educational counseling to the children of military special operations personnel.
Video of the first pitch available online at http://www.youtube.com/watch?v=zmDdJ70zWCQ
###