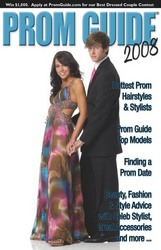 It was a once-in-a-lifetime opportunity, and I'm so grateful that I was able to do it and make some new friends in the process
Jericho, NY (PRWEB) May 8, 2008
Thirteen seniors from around the country were selected as finalists in Prom Guide Magazine's 2008 Teen Model Search. Each of the 13 finalists appeared on a regional cover of Prom Guide, the nation's longest running magazine devoted exclusively to preparing guys and girls for prom night. Cover models received an all-expenses paid trip to New York City for makeup, hairstyle and wardrobe makeovers as part of a professional photo shoot.
Hundreds of teens from around the country entered Prom Guide teen model search contest and scholarship program. The finalists were Joel Alvarez from Satellite High School in New York, New York, Adriana Gerardino from Mitchell High School in New Port Richey, Florida, Laura Butner from Loganville High School in Loganville, Georgia, Jane Hwang from Aragon High School in San Mateo, California, Amy Kao from Stevens High School in Edison, New Jersey, Jacob Johnson from Powell High School in Powell, Tennessee, Samantha Mooney from Paul VI High School in Haddonfield, New Jersey, Erin Muschette from Lynn Classical High School in Lynn, Massachusetts, Brittani Nolan from Thornton Township High School in Harvey, Illinois, Justine Omilig from Murrow High School in Brooklyn, New York, Sarah Reardon from Cardinal Mooney High School in Youngstown, Ohio, Erica Trumpet from Lawrence High School in Lawrence, New York and Jessica Vasquez from Peace & Diversity Academy in Bronx, New York.
Sarah Reardon and Jacob Johnson were selected as this year's most photogenic cover models and were awarded a $1,000 scholarship for college. Reardon's prom dress was provided by Tony Bowls Paris. Johnson is wearing a fabulous prom tuxedo by Jean Yves.
For Johnson, it was a special addition to a life-changing experience. "It was really cool seeing a real photo studio and working with professional photographers," Johnson said. "The whole experience actually compelled me to pursue modeling as a career, in which I am active." Johnson said he would use the money for tuition and books when he attends the University of Tennessee in the fall, where he plans to pursue a degree in Business.
Reardon was also appreciative for the experience. "It was a once-in-a-lifetime opportunity, and I'm so grateful that I was able to do it and make some new friends in the process," she said. Reardon will be studying fashion merchandising at Kent State University and will use her scholarship money on books and other expenses.
Reardon, Johnson and all the regional models can be seen at http://www.promguidetopmodels.com. Members of the 2009 graduating class can also apply here to be one of next year's cover models. Winners are chosen by their peers around the country in an "American Idol"-style voting process.
About Prom Guide
Serving prom-bound teens since 1988, Prom Guide and PromGuide.com currently serves about one million prom teens offline and millions online loaded with information on prom dresses, prom limo, prom hairstyles, prom tuxedos, after prom ideas and more. The company awards more than $20,000 annually in contests, scholarships and prizes.
For more information about the 2008 cover models or the 2009 Teen Model Search, visit http://www.promguide.com or call 1-800-775-5701.
###