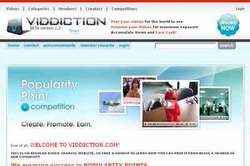 Viddiction.com offers unprecedented member involvement, not just in the process of sharing videos, but in the sharing of profit
Rockville, MD (PRWEB) May 8, 2008
A video clip sharing Web site recently introduced by Brainstem Cybermedia is offering contributing members the chance to earn cash for cachet. Viddiction.com, a video sharing hub, allows members to upload videos onto the Internet at no charge and earn money on their clips through monthly popularity contests.
The site uses a point system that lets anyone earn credits for clip views and new member referrals. Competitions will test a user's ability to promote all varieties and genres of video or focus on specific formats - such as video blogging.
"Viddiction.com offers unprecedented member involvement, not just in the process of sharing videos, but in the sharing of profit," explained Brainstem Cybermedia owner Alexander Koyfman. "With the Viddiction.com system, members are viewed as active shareholders in the community, where activity is not just appreciated, but rewarded with tangible winnings."
The monthly popularity competitions measure a participant's ability to promote videos they create. Contributors are encouraged to promote their clips through as many Web channels as possible, and are paid monthly rewards based on the total number of views they earn. Payouts can range from $10 up to $500 per clip, with no limit on the number of clips members can submit for rewards. Members can also earn rewards for bringing in new members to the Viddiction.com community.
"It will be easier for members to get higher rankings and collect winnings," said Koyfman, adding, "and as membership rises, prize pools are sure to increase."
Koyfman, a second-year student at Penn State's Dickinson School of Law adds that one of the site's claims to fame is that it offers ordinary Web users an easy forum in which to upload videos onto the Internet and share their clips with others. The video clip sharing site features simple registration and contest participation processes, as well as customizable personal profile pages.
"The industry trend is for size and corporate emphasis. Just look at the homepage of YouTube and see how many featured videos are produced and submitted by big production companies and TV networks," Koyfman said. "Viddiction.com is dedicated to being the people's video download sharing Web site -- something the big competitors are steering away from."
To view video clips, or for more information about how to submit videos and reap popularity and referral rewards, visit Viddiction.com.
About Viddiction.com:
Viddiction.com, a Brainstem Cybermedia Web site, is an online community in which members can upload videos onto the Internet for consideration in regular popularity competitions. Brainstem Cybermedia owner Alexander U. Koyfman, a law student at Penn State University, created the site to target the average user.
###