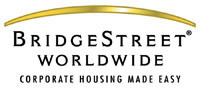 The BridgeCare program encourages our associates to nurture relationships and seek new and creative opportunities to make guests' experience with BridgeStreet memorable
Herndon, VA (Vocus) May 8, 2008
BridgeStreet Worldwide, a leading international provider of corporate housing, announced today the 2007 winner of its BridgeCare Award. This annual recognition is awarded to an associate who best reflects the company's commitment to exceed guests' comfort and service expectations. The annual BridgeCare winner is selected from four semi-finalists, known as "BridgeStars," who each received prizes and company-wide recognition.
This year's Grand Prize winner, Melanie Buechler was surprised by the "Prize Patrol" led by BridgeStreet president and CEO, Lee Curtis, who presented her with the award and prizes, including a paid vacation for two. Buechler was up against some stiff competition from the other finalists who touched the lives of guests through compassionate gestures and made guests feel cared for with heartfelt efforts.
"The BridgeCare program encourages our associates to nurture relationships and seek new and creative opportunities to make guests' experience with BridgeStreet memorable," said Curtis. "This means going beyond typical customer expectations and allows us to connect with our clients in unique and personal ways. I am proud of the passion and dedication for service excellence shown by our associates' everyday and the way that our Associates live the core values that our company has been built upon. It is through the BridgeStar recognition program we honor their successes and our company's top performers."
This year's annual winner exhibited the spirit of BridgeCare by finding a way to personally and positively affect the lives of guests. Buechler realized that a high percentage of guests in her New York market were expatriate spouses who had moved to the United States from their own country and often felt overwhelmed by the cultural differences. Buechler was determined to improve the transition process and to make the relocation experience and their time in New York a positive one. She partnered with relocation professionals to create a networking community called "What About Me?" which provides guests with a platform to share thoughts and ideas in a social and educational setting. The program has grown in popularity and the positive feedback from guests has been tremendous.
The annual BridgeCare Award has been a BridgeStreet tradition since 2002 and continues to be an acclaimed and coveted recognition award among BridgeStreet associates worldwide.
BridgeStreet Worldwide is a leading international provider of corporate housing. BridgeStreet and its Global Partner Alliance offer over 15,000 corporate apartments located throughout the United States and 50 cities internationally. An award winner both in the U.S. and Europe, BridgeStreet properties meet uncompromising standards of quality, comfort and service. For more information about the company or to learn more about how BridgeStreet is Making Corporate Housing Easy, visit http://www.bridgestreet.com or call 1-800-BSTREET.
###