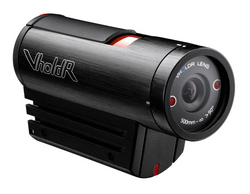 We are very excited to be an authorized retailer of VholdR.
Seattle, WA (PRWEB) May 8, 2008
VholdR, the wearable hands-free camcorder that shoots up to 2 hours of TV quality audio and video, is now available in stores and online nationwide. The self-contained VholdR is the only device in its category to provide a seamless experience from shooting to sharing action sports video online at VholdR.com.
"When people get their hands on VholdR, they are surprised by it's compact size and light weight. It's remarkably easy to use and consumers are delighted with the video quality," said Jason Green, VP of Product Development, of Twenty20 Corporation, makers of VholdR. "VholdR's intuitive design and simple 3 step process to move people through shooting, uploading and sharing video online is the perfect solution for an historically difficult process."
VholdR began shipping to pre-sale customers late February. The company has been quickly ramping up its distribution and retail channels, and the demand for the product is surpassing all expectations. Abt Electronics & Appliances, Helmet Camera Central and B&H Photo Video are just a few retailers that now carry VholdR online and in stores.
"We focus on offering our customers the most compelling consumer electronics in the world. The highly anticipated VholdR Wearable Camcorder is the type of revolutionary product that Abt customers expect," said Abt Electronics President Mike Abt. "We are very excited to be an authorized retailer of VholdR."
"The shipment of VholdR is a great milestone in achieving our vision for improving the shoot to share process," said Marc Barros, CEO of Twenty20 Corporation. "The innovations in design and usability, combined with the ability to shoot video hands-free give people the freedom to capture their adventures without sacrificing the experience. We've had such remarkable, sustained interest in the product we're excited to deliver it to our customers through a very impressive line up of retailers and distributors."
VholdR weighs just a few ounces, and features a completely sealed brushed aluminum protective shield that allows the camcorder to work in the rain, snow and mud. Small exterior grooves are designed to easily connect to various VholdR TRail Mounts™ allowing the camcorder to be attached to anything, anywhere. A single on/off button makes VholdR unbelievably simple to use, even when wearing gloves.
The compact camcorder fits up to a 2GB MicroSD card, rechargeable battery and USB port into its self-contained housing. When the day is done, AVI files are easily transferred through a USB cable from the device to the computer where they can be easily shared on VholdR.com, an Action Sports Website.
VholdR retails for $349.99 MSRP and includes desktop software, flat surface mount, USB cable, and rechargeable battery. Goggle, vented helmet, handlebar and roll bar mounts will be available this summer.
Quick Facts:

One touch on and off switch
90º rotating lens with smart leveling
Mounts to any surface
Withstands dirt, rain, snow and mud
Water and shock resistant
Video Pixel Size: 640x480 (TV quality)
Frames Per Second: 30
Weight: 4.8 ounces
Size: Height 3.75 in. x Length: 2.1 in. x Width: 1.35 in.
Record Time: 2-hours
Waterproof Microphone, Water Resistant Camcorder
Downloads: AVI Files (also viewable/editable on Macs)
Supports up to a 2GB MicroSD Card - Card not included
About Twenty20 Corporation
Twenty20 Corporation is a Seattle-based startup that is leading the way to the future in shoot-to-share technologies for consumers. Twenty20 is dedicated to creating revolutionary technologies that enable hands free capture and effortless sharing of video online with others. For more information about Twenty20 and where to purchase VholdR please visit VholdR.com.
Media Contact:
Kristine Marzolf
Twenty20 Corporation
206.792.5226
###