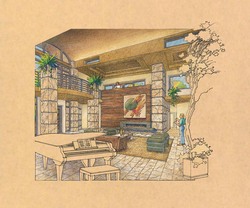 Luxian Scottsdale will be a place to create these special memories. Our partnership with the Sanctuary makes perfect sense for Luxian residents.
Scottsdale, Ariz. (PRWEB) May 9, 2008
Luxian Scottsdale, a premier equity resort ownership (ERO) property under development along the prestigious Camelback Corridor in Scottsdale, has announced plans to partner with the Sanctuary Resort & Spa in Paradise Valley in an agreement which will provide owners at Luxian Scottsdale membership privileges at the exclusive resort nestled in the shadow of Camelback Mountain.
Residents of Luxian Scottsdale, a gated enclave of three world-class private estates facing The Phoenician golf course, will enjoy full membership access to spa and dining amenities at the Sanctuary Resort, voted No. 1 in the Conde Nast Traveler Reader's Choice Award for U.S. resorts.
"We are proud to be a part of a premiere project like Luxian Scottsdale," said Mike Surguine, general manager of the Sanctuary Resort and Spa. "At the Sanctuary, the owners of Luxian will enjoy the finest spa, dining and resort amenities Arizona has to offer. It is a win-win for everyone."
Luxian Scottsdale features three gated estate homes, each built on a full acre. Each estate home offers 6,000 square feet of luxury living space affording ample room to live and play, creating the perfect environment to re-connect with family and friends.
Research has shown that over the past decade there has been a profound shift in the luxury vacation and leisure travel market. Besides rest and relaxation, vacationers are more and more looking for time and opportunities including spending quality time with family -- whether at home or at posh spa and dining destinations like the Sanctuary. "Luxian Scottsdale has taken the best of several luxury vacation travel trends and concepts and combined them into a unique experience designed to maximize quality time with family and friends," said Gary Arnold, president of Esterra Development, the co-developer of Luxian Scottsdale. "Luxian Scottsdale will be a place to create these special memories. Our partnership with the Sanctuary makes perfect sense for Luxian residents."
There are two options when buying property at Luxian Scottsdale. In the winter season, there are nine ERO opportunities for purchase. Each of theses winter season owners receive eight weeks of luxury ERO vacation time. The eight week ERO will be available in two blocks of time: one in early winter/late fall (October, November and December) and one in late winter/early spring (January, February and March). There are also summer season ERO options offered during the late spring through early fall (April through September). Prices start at $1.75 million.
Luxian Scottsdale, 6500 E. Camelback Road in Scottsdale, is being developed by the Phoenix-based firms of Esterra Development and HL Design Build. Luxian Scottsdale features vistas of pristine mountains, golf course greenery and water features all within the relaxed and refined community of Scottsdale.
Handling the design and co-development of Luxian is internationally-recognized architect R. Nicholas Loope FAIA, the principal designer and owner of HL Design Build, LLC, a general contracting and design firm that specializes in custom homes, resort properties and specialty retail. Loope's experience spans several decades and he has designed numerous award-winning custom residential homes and office projects.
Offices for Luxian Scottsdale are located at 6991 E. Camelback Road, #B-210, Scottsdale, near Scottsdale Fashion Square. Ground breaking at Luxian Scottsdale will commence in late 2007. Luxian Scottsdale is represented by Esterra Properties. For more information, please visit http://www.luxianscottsdale.com or 1-888-Luxian1.
About Sanctuary Camelback Mountain Resort and Spa
Sanctuary on Camelback Mountain is a luxury boutique hideaway with dramatic mountain and spa casitas offering spectacular views of Paradise Valley. Sanctuary Spa, an intimate retreat, offers Asian-inspired treatments along with a relaxing meditation garden, movement studio and fitness center. elements restaurant features farm-fresh cuisine with Asian accents while jade bar is known for its extensive wine list. Along with Scottsdale shopping and golf, guests enjoy the infinity pool, tennis and hiking in the shadows of Camelback Mountain. For more information, please visit http://www.sanctuaryoncamelback.com.
About Luxian Scottsdale
Luxian Scottsdale is being developed by Esterra Development and HL Design Build. Esterra is a Scottsdale-based real estate firm focusing its efforts on high value added property development. Esterra works with a select and limited number of investor groups. HL Design Build is a Phoenix-based design and build firm specializing in custom home, resort and retail construction.
###