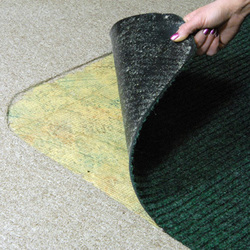 By embedding a mat outside
Cleveland, OH (PRWEB) May 9, 2008
Martinson-Nicholls offers a new system of embedded, recessed well matting installations to protect floors and carpet from dirt, salt, and excessive wear. Architects have used well areas or recesses in vestibules for years with the sole purpose of holding floor matting. Most wells are 1/2" deep to keep mats flush with the floor, eliminating a trip hazard or the chance of the mat getting caught up under the door, a further potential trip and fall.
Martinson-Nicholls now offers contractors, architects and building owners a new approach to well matting that works with shallow wells indoors as well as outdoors.
Creating wells within carpets eliminates mat movement and the potential for trip and fall that exists with mats laid over carpeted or tiled areas. The embedded mat absorbs the wear and tear in high traffic areas, and can be replaced at a fraction of the cost of replacing an entire floor. Martinson-Nicholls also has the ability to put heat into the embedded regions that adds to the ambient temperature of these areas.
"By embedding a mat outside," quotes Dan Ruminski, president of Martinson-Nicholls, "one starts the serious process of moisture and dirt removal before one enters the building. More importantly in winter months when salt and calcium is used such a mat can capture up to 80% of this material before it enters the building. When I do work for many of the hospitals here in Cleveland, I see first hand what salt does to floors, rotting door jams, concrete and waxed floors and carpet.
Martinson-Nicholls has also the ability to put heated mats into a recessed area in vestibules to keep entrances free of snow and ice, dry the entrance mats and help warm the vestibule with radiant heat.
The new Martinson-Nicholls system works with a number of floor matting products, including those from Crown, 3M and Andersen in addition to the company's heated floor systems to accommodate all types of well areas. Custom sizes, shapes, and mat styles are also offered.
About Martinson-Nicholls
Martinson-Nicholls has established itself as a leader in custom floor matting, heated floor mats, and safety solutions over the last 25 years.
Martinson-Nicholls provides the customer with the exact size needed-small, large, standard, nonstandard, special shapes and logos. Custom installations are also a specialty of the company.
Anti-slip safety tapes and treads are available in various sizes and textures from hand cut or die cut pieces to full rolls and special shapes.
Martinson-Nicholls concentrates on floor safety, noise reduction, and anti-fatigue and indoor and outdoor heated floor mat applications. They welcome the special applications that our customers present, as this has enabled them to satisfy come very unique and unusual problems for customers. For more information, please visit http://www.floormat.com.
###