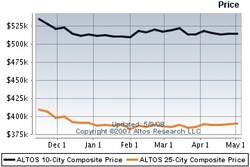 While this is not shaping up to be a typically strong spring selling season
Mountain View (PRWEB) May 9, 2008
The Altos 10-City Composite Price Index showed a decline in asking prices of 0.9% over the past three months and continued that decline in April with a decrease of 0.6% for the month. Prices of properties listed for-sale fell in only 7 of 25 major markets according to the Real-Time Real Estate Report, jointly published by Altos Research, the premier source for real-time real estate research, and market analysis consultancy Real IQ™.
List prices fell at the fastest rate in Las Vegas - down 2.7% during April. The largest three-month declines occurred in Las Vegas and Philadelphia, off 5.1% and 4.5% respectively. Listing prices rose at the fastest rate in Denver up 2.6% and Charlotte up 2.1%. Prices also increased by more than one percent in April in Boston, Houston, Dallas and San Francisco.
"While this is not shaping up to be a typically strong spring selling season," said Stephen Bedikian, partner and research director for Real IQ, "we are now seeing signs of price stability or price increases in most markets. During April, only the most troubled markets such as Las Vegas, Miami, Tampa, Philadelphia and Phoenix, continued to show asking price declines."
For-sale property inventories increased in 19 of 25 markets during April. Inventory in the Altos 10-City Composite markets rose just 0.8% for the month and 5.6% during the most recent three-month period.
Data in the Real-Time Housing Market Report is based on analysis of over one million properties currently listed for-sale in 23 metropolitan markets across the country. The report is the most timely source of housing market data on current market activity.
For the Altos 10-City Composite, the average days-on-market was 111 - an improvement from 119 in March and 122 in February. Miami and Detroit experienced the longest time-on-market spans with an average days-on-market of 153 and 143 respectively. Austin led all markets with the fastest rate of inventory turnover at an average of 67 days-on-market.
"Inventory buildup is typical during the spring selling season but so far it has been fairly modest and that is reflected in the decline in average days-on-market," said Michael Simonsen, CEO and co-founder of Altos Research. "Tight mortgage credit, foreclosures, and economic fears continue to put pressure on the real estate market but if inventory growth remains restrained, we may see supply and demand balance out."
The report examines housing pricing, inventory levels and market conditions in 22 major U.S. metropolitan statistical areas (MSAs): Atlanta, Austin, Boston, Charlotte, Chicago, Cleveland, Dallas, Denver, Detroit, Houston, Las Vegas, Los Angeles, Miami, Minneapolis, New York, Phoenix, Portland, San Diego, San Francisco, Seattle, Tampa, and Washington, DC. The Real-Time Real Estate Report is released every month.
About Altos Research
Altos Research LLC pioneered real-time real estate research. Founded in 2005, the company's information products serve investors, traders, and thousands of real estate professionals. Because real estate data is traditionally obscure and highly latent, Altos built the Real-Time Market Intelligence(TM) platform to monitor dozens of housing market metrics as they are right now in local markets across the country. The company publishes real estate reports and real estate data each week for thousands of zip codes around the country.
About Real IQ
Real IQ provides housing market analysis and consulting services to leading mortgage and real estate companies. More information about Real IQ is located at http://www.realiq.com.
###