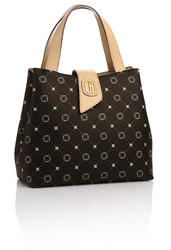 Truly premium brands use custom materials and apply subtle touches of luxury in every bag like 'feet' on the bottoms to prevent wear and tear, signature designs and solid gold hardware. Many women look for custom hardware first when buying a designer handbag and we spared no expense in our hardware
Palm Beach, FL (PRWEB) May 13, 2008
Peter Belisi, the designer called the new Ralph Lauren by Jupiter Magazine, believes luxury is in the details. Each one of his new handbag styles features the same quality artisanship and fine materials represented in Belisi luxury Italian silk ties and silk scarves.
The Belisi Handbag Collection was not a whimsical undertaking. The handbags are three years in the making. Why the wait? Mr. Belisi had a few unwavering criteria to meet before he could debut the collection:
Sophisticated - Belisi handbags must have a signature style that adds something new to the collective design universe -- a step forward.
Classic - Belisi handbags must be classic. A Belisi bag is an investment. Whatever fashions go in and out of style, a Belisi designer bag will stand the test of time.
Luxurious - Luxury is in the details and we spent more than 3 years perfecting the signature Belisi leather, the custom hardware, the even stitching and gorgeous custom lining.
"We are honored when our customers choose to pay a premium price for our products. We want to give them a bag they can wear with confidence in 10 or 20 years," says Peter Belisi. "If our bags didn't measure up to other premium brands like Louis Vuitton, Gucci or Coach, I didn't want to make them."
The result is a breathtaking collection of premium designer handbags. "Truly premium brands use custom materials and apply subtle touches of luxury in every bag like 'feet' on the bottoms to prevent wear and tear, signature designs and solid gold hardware. Many women look for custom hardware first when buying a designer handbag and we spared no expense in our hardware," Belisi says.
"To achieve the most amazing product, I went way out of my comfort zone. There is a big difference between fabric, which I had worked with in the past, and metal, so to get the ultimate luxury look I collaborated a designer of custom aircraft interiors on the hardware design. Saudi Princes and billionaires pay up to $200 million on their aircraft décor; many of these interiors include custom designed vanities, gilded ceilings, exotic wood cabinets, even throne rooms. This partnership resulted in custom hardware that is the signature Belisi look."
The Belisi Handbag Collection includes five classic handbags: the Sophie Drawstring, Lexi Satchel, Emma Shoulder Bag, Annika Bucket bag, Ava Travel Tote, and the Linden Backpack--a popular trend among the 20-something crowd. The Belisi Collection will also include a rolling suitcase, a laptop bag and a versatile wallet.
Belisi handbags feature exclusive Tuscan Dark Chocolate Leather finished with the hallmark Belisi pattern in Alabaster Glow.
"We call it Alabaster Glow because the pattern has a luminescence to it," says Belisi. "We discovered the radiance when we applied our standard cream color to the dark chocolate leather. You get a beautiful radiance that truly embodies the Palm Beach luxury on which we were founded."
In addition to timeless style and classic sophistication, Belisi handbags are practical.
"The Number One issue we heard from women was they want the convenience of carrying a handbag on their shoulder or in hand. We also heard that they want zippers that work smoothly, have inside pockets for a cell phone, and when a zipper isn't convenient, an easy closure, like a magnet. For example, our backpack has very convenient straps and pockets. Our laptop bag is just the right size and has many easy access features like Velcro pockets. Our travel bag and drawstring bag come with shoulder straps." Whoever said that women have to sacrifice comfort and convenience in the name of fashion hasn't experienced Belisi.
About Belisi:
Belisi is the creative fusion of vibrant Palm Beach colors with Italian-inspired design. Each dramatic detail in a BELISI product represents the unwavering commitment to create products that combine bold sophistication and enduring beauty.
Editor's Note: Photography is available upon request.
Contact:
Amy Covington
Belisi Fashions
amy.covington @ belisi.com
http://www.Belisi.com
###