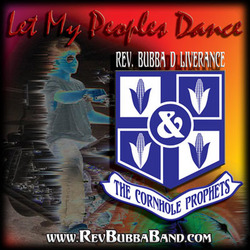 We're not in this for the celebrity
Auburn, AL (PRWEB) May 20, 2008
Hailing from Auburn, Alabama and whipping up a storm anywhere they take to a stage, Rev. Bubba D. Liverance & the Cornhole Prophets are here to preach the good word of real music.
Bubba, the self-titled "Right Reverend of Rock 'n' Soul", and his nine strong horn band are about to release their debut album "Let My Peoples Dance", and if you're not already a disciple you will be soon. The 12 original songs on this record are a throwback to that golden age of music before manufactured pop and celebrity culture took over.
Indeed, celebrity culture is something which Bubba and his music consistently rail against. "Don't need your money. Don't want your fame," sings Bubba on Ain't No American Idol, a song that well and truly sticks it to Simon Cowell and his legions of bland identikit pop puppies. "We're not in this for the celebrity," state the band. "If you want to celebrate someone, celebrate a nurse, teacher, or a soldier."
Celebrating the common man is exactly what much of this music does, as all good rock and soul should. The title track is a hymn for the working people of America, sounding like Bruce Springsteen if he was backed by the Blues Brothers.
But the band also wanted to put a bit of joie de vivre into the album. "The idea was to go into the studio and have fun," says Bubba. "We felt that if we could capture that spirit on the record, the audience would enjoy listening." Anyone who hears the results would certainly agree that is exactly what these boys have done.
The cheeky My Baby Is A Seafood Platter perfectly shows off their fun side. If you can't dance to this you've got lead in your shoes! This is just great down home rock 'n' roll music with no airs or graces.
Ably assisting Bubba and the boys on several tracks are Wayne Jackson and Carl Hale from the Memphis Horns. Their pedigree is second to none, having worked with Elvis, U2 and Sam & Dave. Wayne even helped out with the horn arrangements on the record, and you can hear the soulful tightness he brought to the project.
Advance copies of the album have already created a stir. Give Bubba a spin and you'll soon see why.
Rev Bubba D Liverance & The Cornhole Prophets Website
###