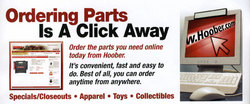 We have certainly not seen any drop off in terms of parts demand
Intercourse, PA (PRWEB) May 22, 2008
It is certainly no secret among farmers that the demand for agricultural equipment has reached unprecedented levels, with many dealers no longer able to order units for inventory with the confidence that those units will arrive.
The overwhelming demand means that farmers are now even more focused on keeping the equipment they currently have up and running. So it's not surprising that orders for tractor filters and mufflers, oil, paint, and parts for everything from tractors to combines, planters and sprayers are keeping dealers busy.
"We have certainly not seen any drop off in terms of parts demand," said Daryl Peifer, general manager at Hoober Inc., a Case IH dealer with locations in Pennsylvania and Delaware. "Farmers are busy and they need their equipment to keep performing and being productive."
Some of the biggest demand for parts from Hoober comes through the dealer's web site. "Convenience is a big reason for the volume we see on the web site," said Peifer. "Farmers can order tractor parts like tractor filters, Case IH parts or parts for any make and model, and they can do it from home and then get back to the work that needs to be done."
But while demand for Case parts is high, Hoober's web site has also proved valuable for those looking to play as well as work.
"We get a lot of orders for farm toys," said Peifer. "We have a good selection of farm toys to choose from and it's a great way for those future farmers and collectors to enjoy smaller versions of the big machines."
In addition to ordering Case parts, the Hoober web site also features Hoober's complete used farm equipment inventory as well as information on Hoober's new agricultural equipment, equipment specials, construction equipment, rental units, apparel and collectibles.
About Hoober
Founded in 1941, Hoober, Inc. has four locations (Intercourse, PA, McAlisterville, PA, Middletown, DE and Seaford, DE) and serves agricultural and construction customers throughout the eastern United States.
# # #