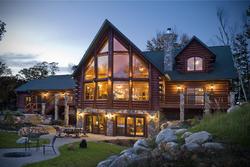 The log home industry has grown over the years offering homebuyers a rustic form of primary living with all the modern amenities included
Wisconsin Rapids, WI (PRWEB) May 13, 2008
Premier log home producer Golden Eagle Log Homes has recently completed an awe-inspiring luxury log home in the north woods of Wisconsin. The home, decadent in every way, is also considered one of the most 'green' ways of home building.
Even as media reports persist about the decline of the housing market, new log home construction continues to increase. This growing popularity in log homes has spurred a large interest from consumers. Unlike stick- built homes, which are built on site of the property, log homes are manufactured in a facility, where efficiency and accuracy can be optimally maintained.
Once the manufacturing is complete, the home is simply shipped to the site, where it's quickly assembled. This process reduces the carbon footprint of a home build significantly, particularly when compared to that of typical stick built. There's less waste, due to the efficient, climate controlled manufacturing environment, there's less pollution and property impact, since heavy machinery isn't required on-site for months at a time, and, surprising to many - the majority of log home producers (Golden Eagle included) source their logs from tree farms, where cut trees are continuously replanted.
This 5500+ square foot luxury log home, nestled on a lake was designed as a weekend retreat for an active family who wanted to bring their love of the outdoors in. The open concept home prominently features the majestic beauty of logs, with a seamless integration of modern day luxury.
"The log home industry has grown over the years offering homebuyers a rustic form of primary living with all the modern amenities included," said, Jay Parmeter, owner of Golden Eagle Log Homes.
Featuring a gourmet kitchen for entertaining, including 36" deep granite countertops which hold multiple Nesco cookers for when the family gathers. The three-level home has 5+ bedrooms (two of which are master suites, for the convenience of guests) and 4 bathrooms, as well as a 2200+ square foot finished family room, ideal for evening hangouts and winter activities. The 23' foot ceilings in the great room rival the view from the multiple Semco Windows facing the lake, and the outdoor patios beckon you.
For more information on how luxury and green can go hand in hand, or to see photos of this home, please contact Scott Rouleau 860.677.0560.
###