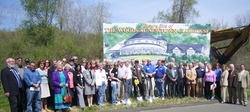 We are proud to announce the start of construction and the exciting news that 70% of our first two buildings are already sold
Newtown, CT (PRWEB) May 12, 2008
At a ceremony held on May 6, 2008, regional builder Kohl Partners, broke ground at the site of their first 55+ Connecticut community, The Woods at Newtown.
"We are proud to announce the start of construction and the exciting news that 70% of our first two buildings are already sold," said Leonard Kohl. "Despite national housing reports, real estate is local, and we have not seen any decline in traffic or demand at The Woods. Our traffic has actually improved in the past month, and we had three new sales last weekend."
Given the fact that statewide housing permits for the first three months of 2008 averaged 354, with only 251 permits issued in the month of February, Kohl went on to say that the pace of sales at The Woods is evidence that "builders who do their homework and offer real value can be successful, even in a slow economy."
First Selectman, Joe Borst remarked, "The Woods will bring needed tax revenue and jobs to Newtown without a drain on schools or other town services. This is especially beneficial at a time when the economy has slowed and state funding to towns has been cut back. This week, what was estimated as a $50 million state deficit went up to $67 million."
According to a National Association of Home Builders (NAHB) economic model, the estimated one-year local impact of building 100 homes in a typical active adult community includes:

$22.5 million in local income
$2.3 million in taxes and other revenue for local governments
378 local jobs
Why Greater Danbury area has been a magnet for 55 housing:
Before choosing Connecticut, Kohl Partners studied the demographics and the demand for a different type of 55 community. The company found that Connecticut is the eighth oldest state in the country. (Maine is #1; Vermont is #2 and New Hampshire is 6th oldest). In fact, U.S. Census data indicated approximately 40,000 households aged 55 to 74 within a 15 mile radius of Danbury, and the area's cultural and recreational resources and easy access to shopping and transportation offer key advantages.
Merging vertical design with hi-tech and resort style amenities
The three story clubhouse condominiums at The Woods are inspired by the exciting new trend to vertical design, which offers elevator access single level living and a resort style clubhouse. National consumer research expert, Barbara Kleger, has found that this housing style provides the maintenance free living and lifestyle that today's 55 boomers are seeking. For the ultimate in convenience, a cyber or virtual doorman connected to a central monitoring center will work as a remote attendant at The Woods, to control access to the buildings and to notify homeowners of package delivery. Enclosed walkways will connect the clubhouse condominiums to an 8,500 square foot shingle style building with cafe fitness center, indoor swimming pool and spa. The Woods clubhouse, designed by Architectura, will be recognized at the 2008 Best of 50 Housing Awards later this month.
"Slumping real estate markets also go by another name - buyer's markets," said Kohl partner Alan Litt. "With interest rates at a 40 year low, and prices at The Woods starting in the mid $300,000's, we are optimistic that buyers will continue to desire the superior location, lifestyle and value offered at The Woods throughout 2008."
In addition to First Selectman, Joe Borst, dignitaries attending the groundbreaking included Selectmen Paul Mangiafico and Herb Rosenthal, Economic Development Director Liz Stocker, EDC Chairman Chet Hopper, Land Use Officer Jean St. Jean, Conservation director Rob Sibley and P&Z director George Benson as well as the development team, homebuyers and neighbors.
About The Woods
Nestled in a 50 acre woodland setting on Mount Pleasant Road (Route 6) in Newtown, The Woods is a luxury 55 community of 132 clubhouse condominiums in nine buildings with covered parking. The condominium buildings are connected by enclosed walkways to a resort style clubhouse in the tradition of New England. In addition, The Woods will include 46 townhouses with attached garages and a series of nature trails. Developed by Kohl Partners, prices at The Woods start in the mid $300's and delivery begins in summer '09. The Woods on-site Information Center is open daily and features a replica of a clubhouse condominium, which Kohl designed based on the input of Fairfield County 55 boomers. For more information, call 877 966-3755 or visit http://www.thewoodsatnewtown.com
About Leonard Kohl
Leonard Kohl has been a pioneer in creating housing, lifestyle and services for active adults and older Americans, and his leadership has had a significant influence on the growth and direction of the industry. Forty years ago, Leonard Kohl completed Rossmoor, the first 55 community in New Jersey, and he is recognized nationally for having changed the nature of retirement living with Rossmoor, Clearbrook and The Ponds, each totaling more than 2,000 individual homes. Later this month, Leonard Kohl will be honored for his achievements by the NAHB 50+ Housing Council as an Icon of the Industry.
For more information visit http://www.KohlPartners.com.
###