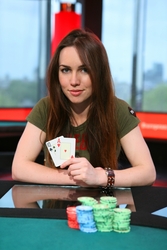 I'm utterly over the moon about winning the European Ladies Championships
Miami, FL (PRWEB) May 9, 2008
If you've ever dreamed of playing Texas Hold'em against one of Europe's best female poker players, look no further than Absolute Poker. Liv Boeree, the online poker site's UK ambassador, finished first among a field of 53 players in the Ladbrokes European Ladies Championship last weekend.
"I'm utterly over the moon about winning the European Ladies Championships," stated Liv Boeree. "It was a fantastic tournament with a great sense of camaraderie and a really tough final table that I enjoyed playing from start to finish. This is also a great boost to my confidence going into the World Series of Poker* which is drawing ever closer."
The land-based poker tournament, held on May 3rd and 4th in London, featured some of the best female poker players on the continent including Annette Obrestad, the winner of the WSOPE Main Event. Liv Boeree placed first in the tournament, securing a commemorative trophy and $30,000 in cash.
In February 2008, Absolute Poker signed Liv Boeree, a former astrophysics student and aspiring 23-year-old pro poker player, to represent the online poker site in the UK marketplace.
Boeree began her poker career on the television series UltimatePoker.com Showdown in August 2005. There, she learned some valuable tips from Annie Duke, one of the poker world's best female players, and caught the attention of popular online poker site Absolute Poker.
Most recently, Liv reconnected with Annie and gained additional insight and playing tips from the world poker champion - an experience that no doubt helped her conquer the Ladbrokes European Ladies Championship.
In a little over two years, Liv has amassed several top-10 finishes in Texas Hold'em tournaments across London including multiple first place wins.
Liv Boeree is featured in Absolute Poker's UK marketing communications pieces and can be found playing in tournaments across Europe as well as online at AbsolutePoker.com.
About Absolute Poker
Absolute Poker is dedicated to providing players from around the world with an online poker game experience that is second to none. Players worldwide can access Absolute Poker online 24 hours a day, 7 days a week from any PC or Mac and experience the best multi-player game online poker has to offer. Absolute Poker is committed to remaining the most trusted and best online poker experience, created by poker players for poker players.
###