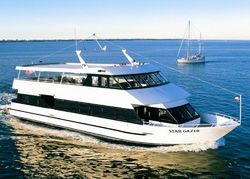 I brought my husband last year for their Father's Day Cruise and now I am back with my Mom for Mother's Day. It is absolutely fabulous. The food is great. The service is wonderful. Everything about this cruise is amazing. I will continue to come back time and time again. - Ashanti Christophe
Houston, Texas (PRWEB) May 11, 2008
Houston Father's Day Lunch and Dinner Cruises are being offered by Star Fleet Yachts in Kemah on Saturday, June 14th and Sunday, June 15th and include a gourmet buffet, champagne and live entertainment. Tickets are available for purchase on line or by phone at 281-334-4692.
Enjoy your Houston Father's Day Lunch or Dinner Buffet as you cruise past the Kemah Boardwalk and gaze upon million dollar yachts and homes. Tell Dad to bring his fishing pole (Ok, just kidding)! Seriously, if you are looking for an unusual Father's Day Gift in Houston ... this is it. Experience a gourmet buffet with endless champagne and live entertainment as you cruise in style.
"I brought my husband last year for their Father's Day Cruise and now I am back with my Mom for Mother's Day. It is absolutely fabulous. The food is great. The service is wonderful. Everything about this cruise is amazing. I will continue to come back time and time again. - Ashanti Christophe"
Father's Day Cruises, Houston, Texas
$49* Adult, $39* Children (Under the age of 12)
*Plus 18% Service Charge and 8.25% Sales Tax
Price Includes:
2 Hour Cruise
Gourmet Lunch or Dinner Buffet
Bottomless Champagne and Mimosas
Complimentary Soft Drinks coffee, tea and juices
Cash Bar for Cocktails, Beer & Wine
Star Fleet will be offering the Father's Day cruises:
Saturday, June 14, 2008
Boarding 4:45pm
Cruise 5-7pm
Saturday, June 14, 2008
Boarding 8:15pm
Cruise 8:30-10:30pm
Sunday, June 15, 2008
Boarding 1:45 pm
Cruise from 2:00 pm - 4:00 pm
Sunday, June 15, 2008
Boarding 5:15pm
Cruise from 5:30 pm - 7:30 pm
Executive Chef Arthur Thomas
Star Fleet Yachts is pleased to announce that Veteran Executive Chef Arthur Thomas will be in command of a special Father's Day Menu aboard the yachts. Chef Thomas has been an Executive Chef in the area for over 11 years and worked at the Tremont House in Galveston as well as a major hotel chain where he was regularly responsible for preparing gourmet meals for large parties. He has taught culinary classes at Galveston Collage and has won awards for his dishes at the Clear Lake Epicurean Events.
Houston Father's Day Lunch & Dinner Menu
Salads & Appetizers
Green Garden Salad with Balsamic Dressing
Fresh Fruit Display
Cold Boiled Shrimp with Cocktail Sauce
Crab and Bread Salad with Pesto Base
Main Course
Sliced Garlic and Herb Crusted Prime Rib of Beef with Horseradish Sauce
Stuffed Medallions of Flounder Fillets with Mournay Sauce
Tender filet of flounder with a crabmeat stuffing topped with mournay cheese sauce
Chicken Marsalla
Sautee breast of chicken with mushrooms in a Marsalla wine sauce
German Styled Potatoes
Vegetable Medley sautd in and Herb Butter
Desserts
Assorted Dessert Display featuring
Chef Thomas's Black Forrest Cake
Star Fleet Yachts offers cruises on Clear Lake and Galveston Bay for corporate events, wedding cruises and special occasions in the Houston area.
Star Fleet Entertainment Yachts
280 Grove Road
Kemah, TX 77565
281-334-4692
http://www.starfleetyachts.com/public/fathers-cruise.htm
###