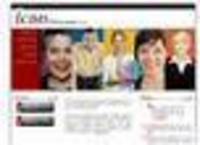 Job boards have been a staple of talent acquisition for our clients, but many are now looking beyond job boards for talent
Hazlet, NJ (PRWEB) May 13, 2008
iCIMS, a leading Software-as-a-Service (SaaS) provider of talent management platforms, today announced that it is partnering with Jobs2Web to extend career site optimization and search engine optimization services through iCIMS' iRecruiter™ Talent Platform.
With job seekers shifting their career searches from job boards to the major search engines (where over 35 million job related searches happen monthly), job aggregators, social networks, and even to their mobile devices, employers are becoming more strategic by leveraging interactive marketing platforms that allow them to take advantage of these new recruitment technologies.
Through this partnership, iCIMS and Jobs2Web will offer clients:

Search engine optimization of iCIMS clients' career sites and job content, helping them attract talent directly from Google, Yahoo!, and other major search engines.
Automatic distribution of optimized jobs to major job aggregation sites.
Enhanced Pay-Per-Click and keyword recruitment marketing tools.
An Integrated Talent Community that helps employers capture passive job seekers online through email and RSS subscriptions, which integrates with iRecruiter's standard CRM tools.
Automated recruitment marketing capabilities that match and regularly email jobs to any iCIMS Talent Community member to further drive repeat visitors.
Social network applications that will allow iCIMS clients to push their jobs out to sites such as Facebook and MySpace.
Total recruitment source tracking tools that help employers know exactly where their recruiting efforts are producing the best results.
"Job boards have been a staple of talent acquisition for our clients, but many are now looking beyond job boards for talent," said Colin Day, President and CEO of iCIMS. "Jobs2Web will augment our customers' ongoing use of job boards to immediately begin producing a fresh source of talent, including many who are semi-active or passive candidates. Our clients can receive these benefits easily because Jobs2Web snaps into the iCIMS platform without any IT requirements or changes to clients' recruitment workflows."
"We like the fit with iCIMS," said Ken Holec, chief executive officer at Jobs2Web. "Source-of-talent accountability is a strong iRecruiter feature, as iCIMS' reporting capabilities permit updated ROI and cost-per-hire reporting. We auto-tag every candidate we send our clients, which fits snuggly into the iCIMS platform and philosophy of effective talent acquisition."
Employers are becoming much more sophisticated with their interactive recruiting strategies and their need for a more robust recruitment marketing solution is long past due. This partnership provides employers with integrated cutting edge marketing solutions that empower them to cut their time-to-fill and lower their cost-per-hire. The iCIMS/Jobs2Web alliance puts the employer back in control of their talent flow.
About iCIMS
iCIMS, a leading Software-as-a-Service (SaaS) provider, is an Inc. 500 honoree focused on solving corporate business issues through the implementation of easy-to-use web-based software solutions. iCIMS' iRecruiter, the industry's premier Talent Platform, enables organizations to manage their entire talent lifecycle from applicant tracking through onboarding and beyond through a single web-based application. With more than 500 clients worldwide, iCIMS is one of the largest and fastest-growing talent management system providers in the space. To learn more about how iRecruiter can help your organization, visit http://www.icims.com or view a free online demo of iRecruiter at http://www.icims.com/demo.
About Jobs2Web
Jobs2Web is a leading provider of interactive recruiting solutions. We develop and implement innovative technologies and services to enable employers to attract, capture and communicate with the exploding base of interactive job seekers. Our Career Site Optimization, Easy Apply, Talent Community, Mobile Recruitment, and Social Network Recruiting solutions allow employers to become self-sufficient, reduce administration, and provide measurable results; all of which will translate to increased quality of hires and reduced time to fill. Headquartered in Minneapolis, MN the company was founded in 2003. Visit us at http://www.jobs2web.com to learn more.
This press release was distributed through eMediawire by Human Resources Marketer (HR Marketer: http://www.HRmarketer.com) on behalf of the company listed above.
###