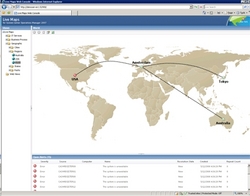 Utrecht, The Netherlands (PRWEB) May 13, 2008
Savision B.V. announced Live Maps 2.0 for System Center Operations Manager 2007, the industry's first seamlessly integrated visual mapping tool for Microsoft System Center Operations Manager 2007. With Live Maps, IT organizations can quickly transform any geographical map or application, service, network diagram into a dynamic, context-aware monitoring map that simplifies event recognition and speeds problem resolution. System Center alerts are rendered on familiar, business-specific images such as geographic maps or data center blueprints, so administrators can act on the event already knowing its business context.
Live Maps Web Console Extends OpsMgr Beyond the Data Center
Live Maps 2.0 includes a Web Console that displays Live Maps on browser enabled clients, allowing System Center alert information to be intelligently distributed beyond the domain of the central management site. Live Maps customers use the Web Console to improve internal communications. For example, a customer with many sites uses Live Maps to alert remote help desk staff of events in their facility; another provides an enterprise service-level dashboard to senior IT and program executives who travel frequently. An IT service provider uses the Web Console to make Live Maps' real-time, monitoring displays the focal point of a secure SLA portal provided to each client.
"The System Center family of products provides comprehensive solutions for customers to proactively plan, deploy, manage and optimize their physical and virtual IT environments," said Robert Reynolds, director of System Center product management at Microsoft Corp. "We are pleased that Savision has combined Live Maps with System Center Operations Manager 2007 to enrich the contextual relevancy of IT management information for our mutual customers."
Enhanced Alert Awareness
Enterprise IT systems can be extremely complex, yet most system documentation is static and contributes little to everyday service management. Savision helps you unlock the value of existing IT artifacts such as Visio diagrams or scanned floor plans by using them as map backgrounds. A wide variety of graphic files -- GIF, JPG, BMP, PNG, and others -- can be easily imported. Additionally, Live Maps 2.0 bundles over 300 geographical templates so creating metropolitan area, state, regional or national maps is quick and easy. Live Maps' enhanced alert awareness features -- including state icon blinking, a Microsoft Office Outlook-style alert view, nested map hierarchies, and audible alarms -- ensure that critical events are never missed or ignored.
Availability
Live Maps 2.0 for System Center Operations Manager 2007 is generally available today. Existing Live Maps customers will receive free software upgrades as part of their license agreement. Pricing starts at €750.
About Savision:
Savision provides solutions that transform, enrich and present data collected by Microsoft's system management products in a fashion more easily absorbed by humans. Founded in 2006, Savision is headquartered in the Netherlands and is privately held. Savision's founders and executives bring years of enterprise systems and application management experience from large IT service companies. For more information, go to http://www.savision.com.
All product and company names herein may be trademarks of their registered owners.
###