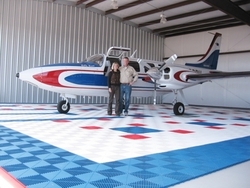 Indio, CA (PRWEB) May 13, 2008
After introducing their product into the aircraft industry with displays at fly-ins and air shows across the nation, Randy Nelson of California-based Swisstrax says that aircraft hangar sales and installations are "flying"! Swisstrax is the manufacturer and sole distributor of their interlocking floor tiles to North America and also sells its product to companies in Central and South America, Australia, Korea, Japan and Europe.
Their Ribtrax interlocking floor tile is recommended for most aircraft hangar installations, with a rollover weight of over 50,000 lbs. and a rating of up to 5100 psi. It is an open-profile tile, allowing for dust to settle below, leaving the surface clean. It can then be vacuumed or hosed out seasonally or as desired.
Randy met Bobby and Lisa Unser at last year's Oshkosh, Wisconsin EAA fly-in. Impressed with the product, Mr. Unser asked to have Randy produce some design options, which he did and they all agreed on three different and unique designs.
The Unsers had approximately 6000 square feet of Swisstrax installed in three applications -- Ribtrax in both Bobby's and Lisa's airplane hangars and Diamondtrax for their garage flooring.
Unser has compiled one of the most impressive lists of accomplishments in American racing history and Swisstrax is honored to have received an endorsement from the racing legend.
"We are so happy with the results of the Swisstrax floor in the hangers and garage. It was so hard to imagine what the final product would look like but when it was done it was so much more beautiful than we originally imagined.
When I met you at the Oshkosh, Wisconsin EAA fly-in your product was very impressive in your display. And when we talked about our hangers and garage I thought this just might be the answer to painted floors that peel and the ugly grey cement that the oil and hydraulic drips never get wiped up under the airplane.
The next step that had us worried was the design. I know you asked us several times for ideas but never having designed geometric flooring we were lost. But then it was Randy to the rescue with a bunch of intricate garage floor and aircraft hangar designs to choose from, it would have taken us a lot more time to design them ourselves. Randy's input is invaluable. My 40 ford looks so dynamic with the grey/black garage flooring design.
Swisstrax gave us so much more freedom to get the design and type of flooring that far surpassed our expectation. When expert tile installers came I have to admit they made it look easy. In the two short days both aircraft hangers and the garage floors were completed with a little time to spare for the install guys to visit the Unser Racing Museum here in Albuquerque and a lively auto racing discussion or two.
This has been the best decision I have ever made on my garage and hanger. I just wish I had done it sooner. In my racing days I required all of my garage floors to be neat and tidy just like my race cars and this would have been the best solution of all.
Thanks Randy for a fine job well done.
Lisa & Bobby Unser"
Swisstrax is a sponsor of both the Sun 'n Fun Fly-in and EAA events. Their list of aircraft aficionado clients also includes Dr. Forrest Bird who has Swisstrax installed in his Sandpoint, Idaho aircraft hangar -- the Bird Aviation Museum.
You can find Swisstrax complete company information online at http://www.swisstrax.com
###