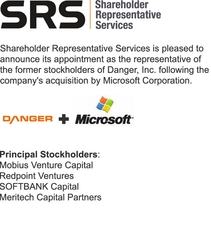 We were introduced to SRS by one of our institutional investors
Denver, CO (PRWEB) May 13, 2008
Shareholder Representative Services (SRS), the first and only company specializing in post-closing shareholder representation in private M&A transactions, today announced that it has been appointed as the representative of the former shareholders of Danger, Inc. following the recent acquisition of the mobile software and services company by Microsoft Corporation (NASDAQ: MSFT).
The selling stockholders of Palo Alto, California-based Danger, Inc. include Mobius Venture Capital, Redpoint Ventures, SOFTBANK Capital and Meritech Capital Partners.
"We were introduced to SRS by one of our institutional investors," said Scott Darling, Vice President and General Counsel, Danger, Inc. "When it became clear that none of our investors or board members wanted to act as the shareholder representative, SRS was a great option for handling issues related to escrow and indemnification matters, and for managing communications with our shareholders. Now, everyone can remain in the loop during post-closing period."
SRS serves as a professional representative of the stockholders following the closing of merger or acquisition transactions. As shareholder representative, the firm manages post-closing matters including handling claims by buyers for damages related to breaches of representations or warranties, communicating with escrow agents and other parties to the transaction, and resolving other matters that may arise following closing.
"Keeping shareholders informed is a major part of our service," stated Mark Vogel, Managing Director of SRS. "At SRS, we provide each shareholder with a toll-free number and dedicated email address to direct their inquiries. And, soon, our new online portal, Escrow Central™, will be available so shareholders will be able to interrogate their escrow balances and status anytime, anywhere."
For more information about Shareholder Representative Services, visit our website at http://www.shareholderrep.com.
About Shareholder Representative Services:
Headquartered in Denver and with offices in Silicon Valley and San Francisco, SRS provides professional shareholder representation services following the closing of an M&A transaction. As shareholder representative, SRS manages the entire post-closing process including the management of escrows, earn-out negotiations, the handling of claims, disputes and litigation, communications with the acquirer, and, ultimately, distribution of escrow funds. By engaging SRS, investors are able to focus on their core competencies -- identifying the next deal and managing the rest of their portfolio -- rather than being distracted by the administrative burdens and legal and financial risks that may inure to the shareholder representative. The professionals at SRS have the expertise to simplify the post-closing process for the investors and to maximize return of sale proceeds to shareholders.
Contact:
Lori Teranishi
VPG LLP
Phone: 415-981-1964
Email: lteranishi @ vpgllp.com
###