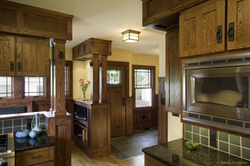 We are delighted our design efforts have been recognized in this highly-competitive nationwide competition
Ann Arbor, MI (PRWEB) May 14, 2008
Architectural Resource, noted Ann Arbor residential architectural design firm, has been recognized with five gold national design awards in the Best of the Best Design Awards hosted by Professional Remodeler. The Best of the Best awards competition recognizes outstanding design and functionality in remodeling projects across the nation. The honors were presented at a special awards ceremony at the Remodeling Show in Las Vegas.
The award-winning projects designed by Architectural Resource included a whole house remodel, custom bath remodel, custom kitchen remodel, exterior portico addition, and an interior remodel/renovation.
The gold award Duprey/Uhen residence custom kitchen remodel, built by Washtenaw Woodwrights, was an Arts and Crafts interpretation of modern kitchen conveniences and amenities. As the culminating second phase of a whole house remodel, the project utilized a cleaver 18" cantilevered extension that provided just enough added floor space to improve the kitchen's function. Exquisitely detailed millwork and an adjacent breakfast booth all recalled an earlier time when quality and craftsmanship reigned supreme.
The gold award Duprey/Uhen residence custom bath remodel, also with Washtenaw Woodwrights, presented a striking contemporary Art Deco inspired master bath. Features included a translucent turquoise glass block partition and shower enclosure; a frosted glass vanity top with integral bowls; custom mirrored medicine cabinets with integral light fixtures, and a light transmitting, privacy glass block window that flooded the space with light. An adjacent sloped ceiling attic space provided the opportunity for a new master closet.
The gold award Taylor residence exterior remodel, in collaboration with Blue Sky Carpentry, was a simple exterior portico at an existing front brick stoop. The shingle style home was perfectly complemented and completed by this elegant, yet simple, front porch roof. Mirroring elements and proportions of the existing home the 5' x 7' barrel vaulted portico enhanced the formal entry and greatly improved the 'curb appeal' of the modest, but charming home.
The gold award Genthe residence interior remodel, executed with Christian Tennant Custom Homes, featured the magical transformation of an all too familiar impersonal and over-scaled "McMansion Big Box" plan book home. The design introduced architectural elements, fine materials and finishes, and a rich new palate that created an improved sense of scale, substance, visual interest and elegance to an otherwise cold and impersonal volume.
The gold award Griffith residence whole house remodel involved an interior remodel of a ranch home with a new entry area in conjunction with Custom Design Build. One of the most significant features of the project as noted by the judges was the rearrangement of the interior spaces with a 180-degree re-positioning of the existing kitchen and utility rooms. This simple plan rearrangement vastly improved the existing home's interior spaces and enhanced the connection to the lake view vistas outside.
"We are delighted our design efforts have been recognized in this highly-competitive nationwide competition," said Michael Klement, founder of Architectural Resource, LLC.
For high resolution versions of any of the above photographs or before and after photographs, please contact Michael Klement at 734-769-9784.
About Architectural Resource, LLC:
Architectural Resource, headed by Michael Klement A.I.A., N.C.A.R.B., is a Ann Arbor-based, architectural design firm with representatives in Portland, OR and Greenville, SC. Architectural Resource specializes exclusively in residential design of custom homes, cottages, additions, remodels and renovations with an emphasis on green and sustainable design. These projects will soon be posted at Architectural Resource's home website: architecturalresource.com and can be viewed at http://www.housingzone.com/proremodeler/info/CA6369762.html.
###