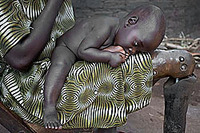 Fort Collins, Co (PRWEB) May 14, 2008
Selected images will be exhibited in the Center's gallery, across from the reunion's event center, August 20 - 30, and in the Center's online gallery for an additional two years.
Pictures will be accepted from all active and former Peace Corps Volunteers. The Center is looking for images depicting Volunteers' activities throughout the world. There is no submission fee. The show is underwritten by Beet Street* a major cultural development organization in Fort Collins, CO.
Images can be sent online or by mail. They are due May 29, 2008. Notification of images selected for the show will begin June 10, 2008. The images for the exhibit will be selected by Dr. Anthony Bannon, Director of the George Eastman House in Rochester, New York.
To submit images online go to The Center for Fine Art Photography's website, http://www.c4fap.org, and click on the International Peace Corps Exhibition. All photographs will be returned to their owners following the exhibition. There are also plans for a traveling exhibition.
The Center for Fine Art Photography is an international non-profit organization located in Fort Collins Colorado. It hosts eleven international exhibitions annually. High resolution photo available at http://www.c4fap.org/pr/peacecorps
Contact:
Larry Padgett
Executive Director
970-224-1010
Larry @ c4fap.org
Beet Street is an independent cultural and economic development entity of the Ft. Collins Downtown Develop Authority
###