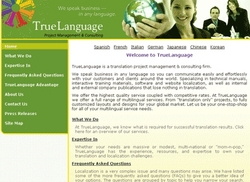 This is an especially important distinction for us because of WBE's stringent certification requirements. It's not just a matter of having 51 percent female ownership
Marietta, GA (PRWEB) May 13, 2008
Professional language translation services provider TrueLanguage has received a nod of approval in the form of certification from the Women's Business Enterprise.
TrueLanguage, a website localization company, specializes in foreign language translations and document translation services that make their international clients more accessible and acceptable to target markets around the world. After a certification process that included application, supporting documentation, a review of the business and a site inspection, the Women's Business Enterprise, or WBE, granted much sought-after certification to TrueLanguage.
The WBE is a regional partner of the Women's Business Enterprise National Council (WBENC), which certifies women-owned businesses. What that certification means for TrueLanguage is that the Atlanta-based firm will be included in a national database that is referenced by other businesses and government agencies to increase diversity in vendor relationships.
"This is an especially important distinction for us because of WBE's stringent certification requirements. It's not just a matter of having 51 percent female ownership," explained owner Uli Dendy. "The organization also wants demonstration that these women manage effectively and contribute a high level of expertise or business capital."
Inclusion in the WBENC database exposes TrueLanguage to many thousands of companies who are seeking to hire the services or provide business opportunities to minority- or women-owned businesses. Since all the companies in the database are put through a rigorous certification process, these hiring companies have assurances that these women-owned businesses have already been held to the highest standards.
Dendy and her business partner Ingrid Hurtubise have a long background in professional language translation services. Uli Dendy, former director international of language services for Omni Resource Group in Atlanta, spent 13 years managing foreign language translation projects before founding her website localization company. Hurtubise taught German and French at the college level and worked as a translator and senior technical writer and project manager before joining TrueLanguage.
"I am proud of what we've accomplished with TrueLanguage," Ingid Hurtubise said of the certification. "This is a nice feather in our cap and a nice vote of confidence from other female professionals about the caliber of our work."
For more information about the translation services offered by TrueLanguage, visit the firm's Web site at TrueLanguage.com.
About TrueLanguage:
TrueLanguage is a woman-owned, full-service translation consulting and project management firm with clients who are leaders in the medical, financial, legal, manufacturing, marketing and technology sectors. Based in Atlanta, the firm employs experts around the globe who provide culturally and linguistically accurate professional language translation services in 28 languages to help international clients expand market share, enter new markets, improve their image and grow profits.
###