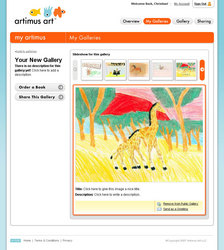 Kids have all kinds of art projects that have been displayed or stored in their classrooms, and now all that stuff is coming home
Gloucester, Mass. (PRWEB) May 13, 2008
The last days of the school year are upon us, and so are the backpacks and folders full of artwork kids are bringing home from school.
To help busy parents put all that creativity into its proper place, Artimus Art is offering a special seasonal discount on its popular archiving service for children's artwork.
Parents choosing either the Trolley or Dump Truck art preservation packages before June 30 will receive an instant $20 discount at checkout. Each order also includes a complimentary Artimus sketch pad and crayon set.
"Kids have all kinds of art projects that have been displayed or stored in their classrooms, and now all that stuff is coming home," says Artimus Art president, Dana Hostage. "It's the perfect opportunity to organize your family's kidart collection and prevent a huge amount of household clutter at the same time."
Artimus Art is the high quality, no hassle solution to preserving and sharing children's artwork. Parents simply send their kidart in a custom artfolio box provided by Artimus and in a few weeks receive a gorgeous hard-cover book and online web gallery of their favorite sketches, doodles and paintings. With its super-sized production capabilities, Artimus turns even large format and mixed-media artwork into perfect pages. Feathers, anyone?
Visit http://www.artimusart.com for more information.
###