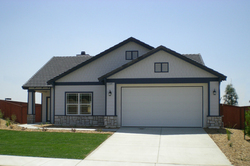 If someone has been thinking about buying home, this auction is definitely one of the best opportunities around
Newport Beach, CA (PRWEB) May 13, 2008
With nearly two weeks until the bid deadline, prospective buyers are enthusiastically conducting their due diligence, securing financing and viewing the homes before placing a bid in an online auction of brand-new homes in Moreno Valley. The LFC Group of Companies, a Newport Beach-based online real estate auction marketing firm, is conducting the online auction of these thirteen homes on their residential auction website Freedom Realty Exchange (http://www.FRE.com/215R6).
Recently ranked as one of the fastest growing cities in the nation, Moreno Valley, California, offers residents an outstanding lifestyle. Recreational opportunities abound at nearby golf courses and parks, including Lake Perris State Recreational Area, one of Southern California's most popular boating, fishing and camping locales. Situated among pristine lakes and the picturesque San Bernardino Mountains, the homes are located only five miles from the University of California, Riverside, with easy freeway access to Los Angeles and Orange County.
The single family homes range from approximately 1,377 to 1,954 square feet and feature 3 to 4 bedrooms and 2 bathrooms. Each home includes attractive features like vaulted ceilings, a concrete rear patio, dual pane insulated windows, designer selected carpeting, oak cabinetry, and pre-wiring for a home security system.
Though previously priced in the upper $300,000's, the minimum bids for the homes will start as low as $99,000! Also included in the online auction is one fully-furnished model home with a minimum bid starting at only $1.
"As auctions continue to gain popularity in this real estate market, buyers are beginning to realize that they can get a lot more for their dollar by purchasing a home through an auction - especially brand-new homes like these in Moreno Valley," says Bill Lange, president of the LFC Group of Companies. "If someone has been thinking about buying home, this auction is definitely one of the best opportunities around," continues Lange.
The bid deadline is Thursday, May 29th, 2008. The homes are open for viewing Thursday through Friday from 11:00 a.m. to 5:00 p.m., Saturday through Sunday from 10:00 a.m. to 6:00 p.m. and by appointment. Information regarding financing and placing a bid is available when you register at http://www.FRE.com/215R6. Don't let this chance to purchase a brand-new home for a steal pass you by.
Freedom Realty Exchange - part of the LFC Group of Companies
For more than 30 years, the LFC Group of Companies have served numerous Fortune 500 companies, real estate developers, investors, financial institutions and government agencies by auction-marketing thousands of commercial, industrial, land and residential properties with an aggregate value well in excess of $5 billion. http://www.FRE.com
###