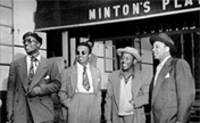 Through our new upcoming educational and artistic programming we are excited to emphasize Minton's historic place within jazz history, and also prepare it to be a leader in jazz for years to come
New York, NY (PRWEB) May 14, 2008
New York jazz landmark Minton's Playhouse - the birthplace of bebop famous for its 1940s jam sessions featuring such artists as Thelonious Monk, Kenny Clarke, Charlie Christian, Charlie Parker and Dizzy Gillespie - announced a massive expansion in its jazz programming and community outreach through the formation of the non-profit foundation Minton's Mentors. Expanding beyond its walls, Minton's also announced an international partnership with South Africa's Fort Hare University and the director of its burgeoning Jazz Studies Department, Hotep Idris Galeta.
New developments to Minton's programming include two year-long Artist in Residence positions, held by Onaje Allan Gumbs and Buster Williams; family-oriented concerts featuring jazz legends; jazz internships and jazz camps for developing musicians; as well as new technology initiatives such as streaming video of concerts, a podcast series, and the formation of a record label. The new programming will commence fall 2008.
Fundraising for these initiatives kicks off summer 2008, when Minton's Playhouse hosts a world record-breaking event, programming 48 consecutive hours of jazz performances from July 4-6, 2008.
"Through our new upcoming educational and artistic programming we are excited to emphasize Minton's historic place within jazz history, and also prepare it to be a leader in jazz for years to come," said Celeste Sapp, manager of Minton's Playhouse. "As we move ahead, we look forward to making Minton's a place for families, to training the next generation of jazz musicians, and to using new technologies to expand beyond the walls of Minton's."
Central to all of Minton's Playhouse's upcoming activities is the non-profit organization Minton's Mentors, which is dedicated to contributing to residents of the Harlem community through educating, informing, and supporting community members, particularly youth. This organization will work closely with the club to develop family-oriented concerts, lecture series, neighborhood concerts, and jazz education programs as well as a jazz camp that will maximize Minton's positive impact on the community.
Spearheading much of the new jazz programming are Minton's newly announced Artists in Residence, the jazz pianist Onaje Allan Gumbs and the jazz bassist Buster Williams. Both artists will work closely with the club and the foundation to develop fascinating jazz performances and also interesting and educational programs for youth.
Expanding its outreach even farther, Minton's will develop a number of multimedia outlets for artists, including streaming video of performances, an ongoing podcast series, and also a label for creating and selling CDs and DVDs of performances at the club.
Click here to download a PDF of the complete press kit.
###