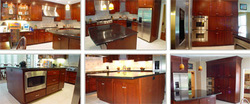 If you're remodeling a bathroom, ShowerGuard is one of the smartest investments you can make to keep your glass shower doors looking their best
Houston, TX (PRWEB) May 15, 2008 -
It's natural for homeowners to take pride in the investment they've made in their homes. This may include anything from employing a company to handle a kitchen and bath remodeling project to simply maintaining their home's interior and exterior to their liking. A-Pro Remodeling & Construction, a full-service general contractor offering home remodeling, renovation, design, and construction services for 25 years, now announces a new way to maintain the quality of the products inside their homes with ShowerGuard, a unique glass surface that keeps glass shower doors looking like new.
"If you're remodeling a bathroom, ShowerGuard is one of the smartest investments you can make to keep your glass shower doors looking their best," says A-Pro Remodeling & Construction owner Steve Schilling. "We use ShowerGuard glass in an effort to provide our customers with high quality products and outstanding service."
ShowerGuard glass features a permanently sealed surface that needs no application and resists the effects of corrosion brought on by water, soap and everyday cleaning products. Utilizing ShowerGuard is just the latest in a long list of quality, durable products A-Pro Remodeling has always used when installing their durable shower systems. Heavy membranes to keep water from getting to walls, all-cement sub flooring, and installation that offers a tight fit have long been hallmarks of A-Pro. When remodeling a bathroom, A-Pro builds a shower from the ground up.
Customers can find high grade products and craftsmanship backed by excellent customer service at A-Pro Remodeling. Along with providing an easy to navigate website that offers more information about their services as well as photos of completed jobs, A-Pro Remodeling is a comprehensive, reliable resource for when it's time for remodeling a bathroom or kitchen.
"We make remodeling a pleasant experience for our customers. We keep our project sites clean, and we aim to be as unobtrusive as possible. Our services are delivered on time from an experienced team that is committed to making our customers happy with the end result," says Schilling.
For more information about kitchen and bath remodeling services from A-Pro Remodeling & Construction, please visit AProRemodeling.com.
About A-Pro Remodeling & Construction:
Since 1983 A-Pro Remodeling & Construction has served the Houston Metro Area. Putting their years of experience to work, Owner Steve Schilling and his team provide high quality home remodeling services, including renovations, design and construction for residential properties. A-Pro Remodeling & Construction puts into practice a commitment to quality jobs done right resulting in a high level of customer satisfaction.
###