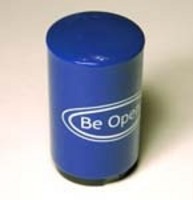 Typically, our openers are being used in the midst of a group or event, and we'd like to build on that however we can to foster community and openness to change
Seattle, WA (PRWEB) May 20, 2008
To encourage participation and be true to its ideals, WhyNotBe.com has released bottle openers in political colors under their "Be Open" brand, and volunteered its president to register voters, take part in Town Hall meetings, and encourage citizen involvement in the political process.
He traveled to Chicago, Kansas, Massachusetts and New Hampshire for three months. "As a company, we want our products to promote and celebrate being open to ideas and change in our country and the world," said President Paul Cifka. "This is about being open in the broadest sense of the term, and about having the values of our company be in alignment with our actions."
Can a company manufacturing bottle openers really hope to make a difference? Managing Director Jonathan Van Valin thinks so. "Typically, our openers are being used in the midst of a group or event, and we'd like to build on that however we can to foster community and openness to change," he said.
The company's bottle openers were recently offered in Republican Red, white, Democratic Blue, and even Green Party Green, each with the "Be Open" logo. The openers are highly unusual in their design. When pushed straight down, an arrangement of levers and springs removes the cap with a notable "pop" and leave it hanging from a small magnet for easy disposal. It works on any bottle with a metal crown cap, such as those on most beer and some soda bottles. It is equally effective on the pry-off or twist-off crown caps. Groups often have their own messages custom printed on them.
Although Cifka was in touch with company operations during his trip, he was not involved in selling anything other than voter participation. Said Cifka, "We'd like to set an example at WhyNotBe.com and motivate people to engage. It's time to gather for food and drink, and be open to the ideas and actions that can move our country forward."
Since his three month trip to get out the vote, Cifka has returned to developing new products for the Be Open brand, and been involved in mobilizing voters in his hometown of Seattle.
For additional information on news that is the subject of this release or for a sample or product demo, contact Jonathan Van Valin or visit http://www.WhyNotBe.com.
About WhyNotBe.com:
WhyNotBe.com is a wholly owned subsidiary of Anzen Markets LLC, a manufacturer of household and advertising specialty products based in Seattle, WA.
Contact:
Jonathan Van Valin, Managing Director
Anzen Markets LLC
(206) 713-1237
http://www.WhyNotBe.com
###