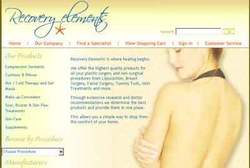 When I was preparing for surgery, I had to visit several different retailers to purchase the products my doctor had recommended and was not able to find everything I needed
Austin, TX (PRWEB) May 15, 2008
Recovery Elements, a specialty store that focuses on healing products such as compression garments for liposuctions, is answering the call for recovery aids. The store, which is geared toward post-surgery recovery, is celebrating the grand opening of its online store.
By some estimates, the number of cosmetic procedures has surged by as much as 114 percent just since 1997, giving rise to a huge demand for post-surgery recovery products. According to RecoveryElements.com founder Cindy Dietz, it was her own experiences that inspired her to open an online store to help others recovering from surgery.
"When I was preparing for surgery, I had to visit several different retailers to purchase the products my doctor had recommended and was not able to find everything I needed," Dietz explained. "After research and positive feedback from patients and medical offices, I decided to move forward with the concept."
Surgical patients who need items such as a liposuction garment or other compression garments, scar treatments, tummy tuck girdles and post-surgery healing products can get everything they need for a speedy recuperation in one place at RecoveryElements.com.
"Recovery Elements has a quality selection of healing products that are also packaged according to surgery procedure," Dietz said. "The Web site will save patients time because it offers one-stop shopping for all of their recovery needs. In addition, we offer doctors another sources of revenue for their business, as well as an added service to offer their patients."
The popularity of cosmetic procedures exploded in the last decade. Since 1997, surgical procedures have increased by 114 percent, while non-surgical procedures rose by an impressive 754 percent, according to the report. According to a recently released report from the American Society for Aesthetic Plastic Surgery, roughly 11.7 million cosmetic procedures were performed in the U.S. in 2007 alone, at a cost of roughly $13.2 billion.
"The most popular cosmetic surgical procedure last year was liposuction, with nearly half a million operations performed," Dietz said. "These procedures require healing and products such as a liposuction garment to assist in the process."
This single-minded focus is RecoveryElement.com's strength, according to Dietz.
"We strictly focus on recovery products like compression garments for surgery procedures," Dietz said. "Doctors can enjoy our added Partner program, reminders for their patients and free shipping."
For more information about products designed for post-surgery, visit RecoveryElements.com.
About Recovery Elements:
The online store Recovery Elements caters to individuals in recovery from cosmetic surgery. The site carries a range of skin care, wellness and post-surgery products such as tummy tuck girdles and compression garments for liposuctions, which aid in the process of healing after cosmetic procedures.
# # #