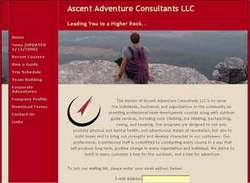 It is exciting to be able to offer such a variety of outdoor adventures to a community that is saturated with people who are into the outdoors
Apex, NC (PRWEB) May 19, 2008
Ascent Adventure Consultants LLC announces newly available customizable outdoor adventures for the public and fully portable corporate teambuilding courses for businesses. The company offers professional, customized guided outdoor adventures that include rock climbing, backpacking and kayaking, available now to the general public. Ascent also specializes in providing teambuilding activities for businesses either on site or in a chosen location.
Ascent Adventure Consultants was founded by owner Brandon Hensinger, an avid outdoor adventure athlete. Over the past ten years, he has climbed and backpacked throughout the United States and all over the world, and worked for four years as a course coordinator, facilitating teambuilding activities for Quest, an adventure guiding and teambuilding company headquartered in Bloomsburg, PA. Guiding many rock climbing, caving, ice climbing, kayaking and whitewater rafting courses has prepared him for offering the various services provided by his new company. The outdoor adventures from Ascent are fully insured and for all experience levels, making them perfect for personal growth and challenging oneself.
"It is exciting to be able to offer such a variety of outdoor adventures to a community that is saturated with people who are into the outdoors," said Hensinger. "Whether at a local cliff in North Carolina or ascending a 20,000 foot mountain in Argentina, knowing that we can give people the adventure of a lifetime, and everything they need to accomplish personal goals, gives us confidence that what we do here at Ascent makes a true difference in the lives of others!"
Ascent not only offers a wide variety of scheduled adventures individuals may sign up for, but also the ability to design literally any adventure. Ascent will provide the equipment, guides, and preparation. With the same care used in creating these customized adventures, Ascent has also designed a number of fully portable teambuilding activities that give businesses the opportunity to hold training or events in a number of locations.
Hensinger added, "We have seen businesses that were lacking in productivity and functionality literally turn around overnight due to the issues and weaknesses brought out through only a few hours of teambuilding with us. The effects of these courses on the participating businesses are not only boosted morale for employees, but long term success, profitability, and functionality."
For more information on personal adventures or corporate teambuilding, visit Ascentadventure.com.
About Ascent Adventure Consultants LLC:
Ascent Adventure Consultants LLC, based in Apex, NC, offers professional, customized and guided outdoor adventures that include rock climbing, backpacking, and kayaking, as well as fully portable teambuilding and corporate training courses to businesses and community groups. The company is fully insured and offers outdoor adventures for every experience level, aiming towards helping individuals with personal growth and businesses with morale and productivity.
# # #