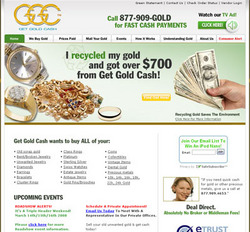 Word has quickly spread. The now Famous Get Gold Cash Roadshow is making appearances in multiple venues on the East Coast
(PRWEB) May 14, 2008
Turning gold into cash continues to grow in popularity as gold prices skyrocket. Gold buyer Get Gold Cash, Inc. makes it even easier to sell gold and other precious metals by announcing the expansion of their Get Gold Cash Roadshow into East coast territories.
"Word has quickly spread. The now Famous Get Gold Cash Roadshow is making appearances in multiple venues on the East Coast," says Get Gold Cash, Inc. President Craig Nusinov. "In addition to mailing items to our company, our customers love the opportunity to meet personally to receive cash payouts for their unwanted precious metals during our Roadshows. Get Gold Cash is now answering requests from all over the Atlantic Coast by scheduling Roadshows to meet increasing consumer demand."
Get Gold Cash Roadshows offer customers the opportunity to deal directly with an expert, licensed buyer who provides a meaningful and enjoyable customer service experience. Due to the personal nature of the Roadshows, many participants become repeat customers and use the Roadshows as a venue to sell gold jewelry and other precious metals many times over. While continuing to offer Get Gold Cash Recycle Mail Paks, these professionally managed buying events offer a quick, convenient option for consumers to meet face to face with an expert gold buyer.
"What we have discovered is that in addition to receiving the highest payouts through our Mail Recycle Program, many of our customers prefer to meet with us personally to discuss their unwanted gold jewelry items. We plan to meet this demand by scheduling additional Roadshow events throughout the country. Our Roadshow events are an exciting and enjoyable option for many folks who just do not have a place to sell their unwanted gold items," says David Jacovsky, VP of Internet Sales and Marketing.
Another goal of the Roadshows is to continue the efforts to encourage the recycling of as much "above ground" gold as possible. Get Gold Cash, Inc. has recently partnered with Earthworks™, an organization dedicated to environmental preservation and increased public awareness of the destructive effects of gold mining.
For more information about the Get Gold Cash Roadshow or to learn more about how to sell gold jewelry and other related items, please visit GetGoldCash.com.
About Get Gold Cash, Inc.:
Located in Baltimore, MD and serving customers in all 50 states, gold buyer Get Gold Cash recycles unwanted gold, old jewelry and precious metals, offering customers cash for their recycled items. Boasting four generations of experience in the precious metals business, Get Gold Cash allows customers to sell gold jewelry and other precious metals via their Recycle Pak or at a Get Gold Cash Roadshow.
###