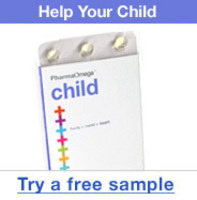 As parents, we know how frustrating meal times can be. Even though we may give our child a healthy, nutritious meal, that doesn't mean that he or she will actually eat it. And even if they will eat it, fish can be quite expensive
Lake Forest, IL (Vocus) May 14, 2008
In response to current estimations that over 90% of children are deficient in omega-3, NourishLife is giving away free samples of PharmaOmega Child omega-3 which has been specifically formulated for child development.
Toddler healthy eating has become a daunting task for parents. Because of the abundance of fast food restaurants and children's dislike of many foods, many children are not receiving all the nutrients they need - especially omega-3. Found only in fish sources, omega-3 is an essential nutrient vital to preschool child development including healthy eyes, brains, bodies, and immune systems.
"As parents, we know how frustrating meal times can be. Even though we may give our child a healthy, nutritious meal, that doesn't mean that he or she will actually eat it. And even if they will eat it, fish can be quite expensive," says Roy Bingham, co-Founder of NourishLife. "Unfortunately, the only fish most children ever see is in the form of fish sticks which contain up to 770 mgs of saturated fat and 9 mgs of cholesterol, so supplementation with omega-3 is crucial for optimal child development."
"We were shocked when we discovered that less than 10% of all children receive adequate amounts of omega-3," said Jason Way, VP of Customer Experience at NourishLife. "In order for toddlers to develop and grow into healthy teen-agers and adults, this child omega-3 deficiency must be addressed, which is why we decided to give out free samples of PharmaOmega Child. This is an easy way to provide omega-3 to all children who need it."
PharmaOmega Child has been specifically formulated for preschool development in children aged 0 - 5 years. To receive a free sample of Child, go to pharmaomega.com.
About NourishLife:
NourishLife (http://www.NourishLifePPP.com) is contributing to a major improvement in health and wellness by addressing nutritional deficiencies. The firm expects to help significantly reduce healthcare costs. Founded by nutrition industry veterans, the firm employs expert scientists and nutritionists passionate about health.
The PharmaOmega division of NourishLife (http://www.PharmaOmega.com) is the web's premier source of Omega-3 information, research, and news. PharmaOmega creates specialty Omega-3 nutrition products of the highest concentration, quality, and purity.
NourishLife is a privately held company located in the Chicago area.
###