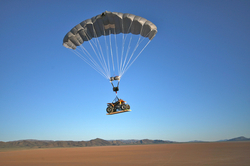 Brooklyn, NY (PRWEB) May 14, 2008
At a dry lake bed in Arizona, Atair Aerospace (Atair) attached a fully functional Honda 400 ATV to an Onyx Ultra Light (Onyx UL) GPS-guided parachute system and released it from a cargo aircraft at 10,000 feet. Minutes later, the autonomous parachute system guided the ATV to a soft landing within 50 yards of the pre-programmed target. A team of operatives, and additional Onyx UL guided-parachute systems carrying mission-critical supplies, closely followed the ATV to the target. Shortly after landing, the operatives were able to detach the Onyx system from the ATV and begin a simulated mission. The exercise demonstrates how Atair's Onyx UL systems can effectively support Special Operations capabilities of the U.S. military.
Onyx UL is a low-cost, GPS-guided parachute system that is designed to meet the U.S. military's Joint Precision Air Drop System Ultra Light Weight (JPADS-ULW) requirement of autonomously delivering payloads from 200 to 700 pounds. In contrast to existing parachute airdrop methods that are performed at low altitude with poor accuracy, the JPADS program was established to facilitate precision delivery of mission-critical military payloads from high altitudes, reducing the risk to troops and supply lines.
Onyx UL is part of a family of Onyx systems with different weight-carrying capabilities that can precisely deliver payloads that range from small ground sensors and munitions to 2,200 pounds of mission-critical supplies. Onyx systems can also be equipped with the breakthrough, industry-first technology of flocking flight algorithms that enable multiple Onyx systems to safely share the same the airspace without risk of collision. These innovative, low-cost systems give military planners the ability to strategically and covertly position equipment for rapidly moving ground and special operations forces, dramatically increasing the odds for a successful mission.
Headquartered in Brooklyn, N.Y., Atair Aerospace (Atair) is a high-technology prime defense contractor dedicated to modernizing military and government logistics by creatively solving complex aerospace and engineering problems that integrate the state-of-the-art in parachute designs, and guidance, navigation and control (GN&C) systems. Atair's inventive products include the Onyx™ precision-guided parachute system, the Long Endurance Autonomous Powered Paraglider™ (LEAPP™) UAV, the Circinus™ GPS-Integrated Inertial Measurement Unit (IMU), the Heli-Chute™, and 3DZ™ Composite Parachute Technology. Atair's pioneering spirit and creative approach to research and development has resulted in contracts with the U.S. Army, DARPA, NASA, NRL, NSW, the Government of Israel, and many large defense contractors.
For more information, contact Rick Zaccari at pr @ atairaerospace.com or visit the Atair Aerospace website at http://www.atairaerospace.com.
###