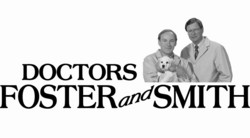 Some of these kill fleas and ticks, and others just kill fleas. Pet owners need to read labels carefully to make sure the correct formula is selected, and don't be afraid to ask your veterinarian for guidance.
Rhinelander, WI (PRWEB) May 14, 2008
As North America wipes away winter's residue and temperatures begin to rise; fleas and ticks again emerge in the ecosystem. Veterinarians Dr. Race Foster and Dr. Marty Smith, co-founders of PetEducation.com, have insight on fighting these pests; information that can preserve the health and sanity of four-legged friends.
Research shows that the saliva of ticks and fleas causes allergic reactions in some pets. Cats and dogs rarely become desensitized to flea or tick bites once they develop the allergy. Pets reacting to allergies or bites will chew at the base of their tail and scratch, resulting in loss or thinning of hair. Some pets may even itch over their entire bodies, have generalized hair loss, and inflamed skin.
"In extreme cases, large numbers of fleas can actually cause anemia in a pet, especially in puppies and kittens," said Dr. Smith, a veterinarian with nearly 30 years of experience.
To fight fleas and ticks, Dr. Foster believes responsible pet parents must treat both pets and the surrounding environment. Addressing the environment is important as it decreases the chance of bugs coming into contact with a pet. To accomplish this, homes, yards and sleeping areas should be treated with products that kill adult bugs and regulate insect growth.
"Adult fleas spend most of their time on an animal, but flea eggs are found in abundance in carpeting, rugs, bedding and grass," said Dr. Foster, who has also been working with animals for nearly 30 years. "For every flea you see on a pet, there are likely hundreds of eggs and larvae that are unseen in a home and yard."
The first step to controlling pests indoors is to vacuum high traffic areas daily, and other portions of the home weekly. Thoroughly vacuum below drapes, under furniture edges, and where pets sleep. Upon completion, seal the vacuum bag in a plastic bag and discard immediately. Also make sure to wash a pet's bedding weekly, and clean automobiles, pet carriers, garages, basements, or any other place where pets spend time.
Next, use a product that kills the remaining adult fleas and also stops the development of eggs and larvae. These products take the form of carpet powders, foggers or sprays. Foggers are especially good for large, open areas. Surface sprays are excellent for reaching areas such as baseboards, moldings, cracks, and under furniture where foggers can't reach. Dr. Smith said local veterinarians can be a good resource for guidance when selecting an appropriate product for inside the home.
Although uncommon, ticks can become established indoors. If this occurs, use a fogger and treat as you would for fleas. In the home, ticks like to crawl to higher areas and prefer cracks around windows and doors. Because of this, pet parents may want to consider applying a one-foot barrier of flea and tick powder where carpets meet walls. Thus, ticks moving to the walls to climb higher will come in contact with the insecticide and perish.
According to Dr. Foster, outdoor insect control involves treating yards and kennel areas where bugs are likely to be found. Moist, warm, shady areas with organic debris are favorite places for these insects. Pet owners should rake away any organic debris such as leaves, straw and grass clippings to disturb the habitat and increase insecticide penetration. Also treat areas such as patios, porches and dog houses, and use environmentally safe sprays containing fenvalerate. These areas should be treated every 7 to 21 days depending on the product used. Make sure to carefully read label instructions and warnings on all insecticides before use, and apply only as directed.
Once an environment has been treated for insects, it's now time to eliminate bugs on furry friends. There are many different products for use on pets, including sprays, dips, shampoos, collars, once-a-month topical treatments and powders available at DrsFosterSmith.com. Topical treatments such as powders and sprays should be used to kill and repel bugs. These types of products contain pyrethrin or permethrin. However, cat owners must be very, very, very careful not to use substances containing permethrin as that substance is harmful to felines.
"The once-a-month topical products applied to a small area on an animal's back are the easiest to use, and generally last the longest," Dr. Smith said. "Some of these kill fleas and ticks, and others just kill fleas. Pet owners need to read labels carefully to make sure the correct formula is selected, and don't be afraid to ask your veterinarian for guidance."
If a flea and tick spray is selected to control insects, pet owners need to remember that an animal does not have to be soaked in the solution. Instead, spray a small amount of the substance on a cotton ball to apply the product, and be careful not to get any of the solution in a pet's eyes or ears. It's also best to use these products in a well-ventilated area.
Unlike sprays, special dips and rinses can be applied to almost the entire animal. A well-ventilated area is again suggested, and put cotton balls in a pet's ears and ophthalmic ointment in eyes to protect sensitive areas. Read labels carefully as some products for dogs are not safe to use on cats.
Flea and tick shampoos are another way to help rid pets of pests already aboard. To properly use a flea and tick shampoo, be sure to work the shampoo in over the entire body and then leave it on at least 10 minutes before rinsing off.
"Keep in mind that after spraying, shampooing and dipping, some fleas and ticks will still be visible for a time," Dr. Smith warned. "In order for the insects to die, they must come into contact with the product and absorb it."
Special collars are another effective way to defend against insects, but these devices must be applied properly. To attain the right degree of snugness, make sure two fingers can be slid between the collar and animal's neck. Then cut off any excess portion of the collar. Check the package for information on duration of effectiveness since some collars lose potency if they get wet. A pet should be monitored closely to make sure the collar isn't creating any type of irritation. And perhaps most importantly, never use collars containing Amitraz, permethrin or organophosphates on cats.
Dr. Foster believes flea combs are another fine way to remove insects from animals, and a tool that is often overlooked. These combs are non-toxic and great for use on ill, pregnant or infant pets. Be sure to choose a comb that has at least 32 teeth per inch, and deposit insects in detergent water to neutralize after being combed out. The disadvantage to flea combing is that it takes a considerable amount of time, and will not be effective in pets that have flea bite hypersensitivity.
"Special powders are also on the market to treat fleas and ticks, and generally they are easy to apply," Dr. Foster said. "The drawback to powders is that they can be messy. And if anyone in the household is an asthma sufferer, powders may not be the best choice."
Of course, ticks can be removed from pets manually. However, many myths exist when it comes to the procedure. Fine-tipped tweezers or special tick removal instruments should be used. Never try to remove a tick with your hands. Complete instructions on manually removing ticks can be found at PetEducation.com.
Dr. Smith said many pet owners inquire if two or more flea and tick products can be used in unison. Generally it's not wise to use more than one product at a time without consulting a veterinarian because some products contain the same active ingredient in different applications. Therefore it becomes possible to inadvertently use too much of a medication, which could be dangerous for a pet.
Most dependable pet stores and online retailers, including DrsFosterSmith.com, will carry a wide variety of treatment options for dealing with fleas and ticks. One benefit to shopping at Doctors Foster and Smith online or via catalog is that the company's products are among the lowest priced on the market and for the next few months, to aid pet owners in their spring/summer assault on pests, shipping is free on many flea, tick and heartworm control products.
For more information about treating flea and tick problems, or dealing with any pet care questions, go to DrsFosterSmith.com or PetEducation.com. Also watch the Faithful Friends program on Animal Planet each Sunday at 9am ET/PT for additional pet care advice from Dr. Foster and Dr. Smith.
About Doctors Foster and Smith
Doctors Foster and Smith, a privately owned company, is the #1 catalog and online seller of pet supplies and pharmaceuticals in the industry. Doctors Foster and Smith is known for empowering pet owners by providing extensive veterinarian-supported advice, proprietary information and quality pet products, serving millions of pet owners from coast to coast. Dr. Race Foster and Dr. Marty Smith have become the nation's foremost authorities on pet wellness, pet care and pet-owner education, earning an unmatched reputation for the scope of their veterinary expertise on dogs, cats, fish, birds, reptiles, pond life, small animals and equine. For more information, visit DrsFosterSmith.com and PetEducation.com.
###