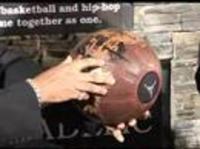 Must Read Book on The Dunkadelic-Era
Baltimore, MD (PRWEB) May 15, 2008
Dunkadelic TV, the new Internet Show based on the 25th Anniversary of the basketball and hip-hop culture fusion that was born in 1984 and is known now as The "Dunkadelic-Era" in America, has completed it's 3rd of 10 episodes for this year. The show chronicles the historic and cultural link of basketball and hip-hop in America over the past 24 years. During the year 2009, the era will celebrate its 25th Anniversary.
Episode #3 is broken down into 3 segments that discuss topics on news and notes, memorabilia, and the first 2 years of The "Dunkadelic-Era" from 1984 and 1985. There is also a part of the show that features a "Must Read Book on The Dunkadelic-Era".
The show is hosted by Jerris Cates and Derrick E. Vaughan. Jerris is a stage performer who has traveled the world as a professional singer. Derrick is one of the most informed and knowledgeable individuals on the "Dunkadelic-Era" and the shows creator. He has been referred to as the Basketball and Hip-Hop Guru, and the Dunkadelic-Era Scholar.
Dunadelic TV's goal is to educate its viewers on the basketball and hip-hop culture fusion that has become a major influence on American pop-culture and history. Visit http://www.youtube.com/dunkadelictv to view the 3rd episode of Dunkadelic TV, where basketball and hip-hop come together as one.
There is a new recipe for the ultimate cheeseburger to enjoy while watching this years NBA playoffs. The Dunkadelic-Double Cheeseburger is a slam dunk King Sandwich for all basketball fans at http://www.chowhound.com/topics/518212.
For more information or interview request on the 3rd episode of the "Dunkadelic-Era" in America or Dunkadelic TV, contact Derrick E. Vaughan at 443-851-5244 or email him at Dunkadelic TV.
###