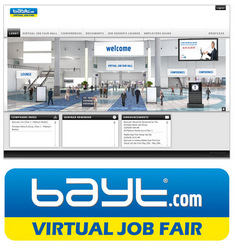 Dubai, UAE (PRWEB) May 18, 2008
Bayt.com, the Middle East's number one job site, announced today that it will be hosting the region's first ever virtual job fair. The job fair, which will be operational on the Bayt.com website, will run for five days between 15th and 19th June 2008 and will offer both employers and job seekers a convenient and hassle-free opportunity to interact.
The first of its kind careers event, sponsored by the Emirates Group, aims to effectively connect qualified job seeking candidates with gainful career opportunities. Candidates will have the easy and unique option to 'attend' the job fair from any Internet-accessible computer and submit their resumes to participating companies of interest at all times, while enabling local, regional and international employers to establish an active talent-seeking presence, without physically being in a location.
"At Bayt.com we are committed to developing innovative methods and continually facilitating the process for employers to actively find, interact with, and recruit relevant job seekers; and for job seekers to easily research the newest and most exciting vacancies from some of the best employers in the region," commented Bayt.com's CEO, Rabea Ataya.
As part of the initiative, Bayt.com will be setting up animated 3D "Virtual Booths" on the website for different companies participating in the job fair, and each booth will, as in a physical job fair, be branded with the exhibitors' names and logos and will provide access to a range of information about the company, including its corporate culture, objectives and recruitment practices.
The job fair will also provide a range of benefits for job seekers, explained Ataya; "Full-time professionals who are seeking employment might not have the time to attend job fairs, and so the virtual version is an efficient and convenient method for them to find new openings without taking time off work. Furthermore, the virtual job fair provides complete confidentiality to every candidate, regardless of which company or which job he/she applies to; and removes all the associated costs in terms of travel or transportation to get to a physical job fair venue."
Other features of the innovative virtual job fair include a CV drop option for job seekers to directly submit their CV to the booths of their choice and directly apply for advertised jobs; and an option for employers and job seekers to interact in real time via either online or video chat. In addition, a series of links will enable job seekers to connect to a directory of current vacancies in a particular company, avoiding the hassle of having to root through various job postings.
In turn, the virtual job fair provides employers with the ideal forum to increase brand awareness about the their company's unique attributes, and allows organizations to advertise their job vacancies on the Middle East's number one job site, which already has over 2 Million registered users from over 94 industries and 182 countries.
For employers and professional recruiters, participating in the online job fair will minimize the hassle, time, and resource requirements often associated with event management at a brick and mortar job fair; allows for cost savings of up to 50% and can maximize an organization's HR ROI. Following the event; employers will have the option to measure the success of the virtual job fair for their organization, with advanced and accurate reporting tools.
"Career seekers are increasingly utilising the internet to identify their next career move, thus it is important for employers like ourselves to be able to convey information on the range of opportunities we have available through new online initiatives like the 'virtual job fair'. Most job seekers are already employed when they start seeking new career prospects - they are busy people and innovations like the 'virtual job fair' herald an exciting new future where technology is harnessed to help companies market their employment brands and career opportunities," said Rick Helliwell, Emirates' Vice President - Recruitment.
"An event such as this is an ideal forum for really bringing together job seekers and employers in the increasingly technology-savvy business environment. Online recruitment has a fundamental role to play in the way that companies recruit their staff today in the region, and by holding an event such as this, all sectors will be able to see that due to the sophistication of today's online recruitment, it is a very efficient and convenient process for securing employment," concluded Ataya.
For more information and to find out how to participate in the Bayt.com virtual job fair log on to Bayt.com and click on the virtual job fair banner/button.
Bayt.com is the #1 job site in the Middle East with more than 30,000 employers and over 2 Million registered job seekers from across the Middle East, Pakistan, North Africa and the globe, representing all industries, nationalities and career levels. Post a job or find jobs on Bayt.com today and access the leading resource for job seekers and employers in the region.
###