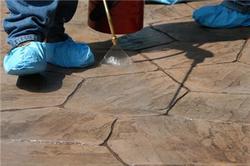 Yucaipa, CA (PRWEB) May 16, 2008
No decorative concrete installation is complete without the application of a concrete sealer. The Concrete Network offers a new concrete sealer buyer's guide with tips on purchasing the right type of sealer for specific decorative concrete installations along with overviews of sealer types, their uses and much more.
Once a decorative concrete floor is installed, whether it is a stamped pool deck or patio, an interlocking paver driveway or a stained floor, proper maintenance and protection with the right concrete sealer is key in keeping the floor spectacular for many years while extending its service life.
Sealers fall into two broad categories: penetrating sealers and film forming sealers. Penetrating sealers react chemically within the capillaries of the concrete to shield against moisture penetration and deicing chemicals. They are most commonly used to improve the durability of exterior concrete surfaces subject to corrosion and freeze-thaw damage.
The second category, film-forming sealers, are most often used for decorative concrete work, and they do just what the name implies - form a protective film on the surface of the concrete. Within this category there are three main types, acrylics, polyurethanes and epoxies.
For more detailed information on the benefits of applying concrete sealers to decorative floors and their functions, visit The Concrete Network's sealer section for more extensive articles.
Read more about concrete products.
Established in 1999, The Concrete Network's purpose is to educate consumers, builders, and contractors on popular decorative concrete techniques, applications, and products. This includes concrete stains, equipment, sealers, tools, and materials. In 2007 The Concrete Network Website had over 11 million visitors researching decorative concrete.
The site excels at connecting contractors with concrete products suppliers through its Concrete Product Directory Concrete Products service. The service provides visitors with a list of decorative concrete manufacturers throughout the U.S. and Canada, as well as local decorative concrete supply stores.
Photos courtesy of Decorative Concrete Institute in Temple, GA.
# # #