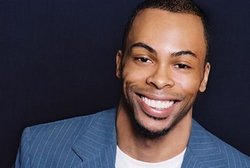 New York, NY (PRWEB) May 16, 2008
Actor Jas Anderson is taking the independent film circuit by storm this year. He is currently appearing in the Independent film "Hug" by director Khary Jones which debuted at the Columbia University Film Festival on Wednesday, April 30th 2008 at 8pm. The movie will also be featured in the Hollywood Black Film Festival in June 4th - 6th 2008. Being the feature actor in this short student film gives Jas Anderson the platform to exercise his explosive on screen talent. The movie "Hug" tells the story of Asa and Drew played by Jas Anderson, a manager and a talented musician on their way to the meeting that could make Drew a star. If Asa has his way, in a matter of hours, Drew will have that record deal. But if Drew has his, Asa will just have to deal. Although it is Drew's bipolarity that today threatens the success they have both worked so hard for, they will only succeed if Asa can learn to be a friend to Drew.
Jas Anderson is most recently known for his role as T-Bone in the indie film "Rock the Paint" opposite John Doman (HBO's The Wire and Mystic River),Douglas Smith (HBO's "Big Love") and Kevin Phillips (Pride and Cookout) which premiered at both the Tribeca Film Festival and the Pan African Film Festival. Rock the Paint won the TAA creative promise award that year at the Tribeca Film Festival in 2005. "Rock the Paint" is back in Tribeca Cinemas on June 6th, 2008. The movie also just last month (March 2008) won best picture and best score at the Asbury Film Festival in New Jersey. Jas Anderson's stellar performance was also a key ingredient in the films success.
Jas Anderson has also worked in film and television, appearing on the Fox 5 television show Johnny Zero, and he recently on the new NBC series Conviction and was featured in 3 explosive episodes. His most recent television appearance has been on the Guiding Light, which aired in February 2008. In addition to the credits listed above, Jas has had major roles in several films, starring in recent film projects- one with actor Malik Yoba and Michael Easton titled They're Just My Friends, and the other called Nick in Time directed by Be Garrett. Jas acted beside the feature actor Isaiah Whitlock, Jr. (Sen. Clay Davis of HBO's The Wire). The film was widely received at the premiering at Sundance film festival, Tribeca Film Festival, Urban World film festival and even abroad at the Milano Film Festival and Cannes. These are stellar achievements for such a young actor having the respect to hold down a character in a lead or supporting role.
Jas has also made his popularity mark in several mainstream music videos, starring as the attractive male lead in videos for both "Move Ya Body" by Nina Sky, and British singing sensation Marc Morrison's "Innocent Man" featuring DMX. Jas even offers his voice and movement to the character OG LOC in the #1 selling video game in 2005 Grand Theft Auto-San Andreas. Being a true thespian the theater has had a chance to embrace the talent of Jas Anderson. Jas starred in a staged reading opposite LORRAINE BRACCO (of HBO's The Sopranos) entitled "DAMON AND DEBRA" at The Sage Theater in New York. Jas has also slipped in a few clever national commercials for Verizon and Hershey's Reese's Peanut Butter Cups, as seen on his acting reel.
This budding actor is fine-tuned and can take you on an adventure with each character he plays. His performance in the movie "Hug" is a propelling and instrumental factor in his success and the success of the film. Jas Anderson leaves with confidence and respect from each director he works with. This role offers complexity and shows a complete range of personality that just oozes off the screen. This role as well as many roles past and present, is a catalyst for Jas Anderson's ultimate success. Catch a rising star, Jas Anderson.
For Interviews and More information on Jas Anderson Please visit http://www.jasanderson.com or contact our offices below:
Contact: Dorelle McPherson
Phone: 917-673-4313
Fax: 917-591-7613
Dorelle @ frontofthehousepr.com
Tribeca Cinema Screening:
Jas Anderson - Supporting Actor "T-Bone" "Rock the Paint" Limited Theatrical NYC.
Writer/Producer, Dallas M. Brennan
Tribeca Cinemas (54 Varick St. near Canal)
Fri. June 6th 6pm & 8pm shows
Sun. June 8th 6pm & 8pm shows
Press/Publicity receiving line Fri. night 6/6/08 at 5:30pm and 7:30pm
Hollywood Black Film Festival:
Lead Character "Drew" Independent film "Hug" by director Khary Jones
Debut: The Columbia University Film Festival on Wednesday, April 30th 2008
Hollywood Premiere - June 4th -6th2008
Upcoming Major Motion Picture:
Brooklyn's Finest - "Character" K-Rock
Shooting Date: May 16th 2008 - Director: Antoine Fuqua & Writer: Michael C. Martin
Cast members, Richard Gere ("Eddie), Ethan Hawk ("Sal"), Don Cheadle ("Tango") and Wesley Snipes (rumored "Caz").
###