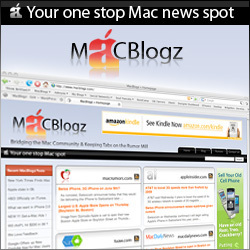 Your site gets it. It's laid out beautifully and extremely informative. It simplifies my quest for Apple news
Portland, OR (PRWEB) May 15, 2008
Think Brilliant Media Studios™, LLC., a Portland based startup, has launched MacBlogz.com, a highly favorable addition to the web and ever growing Apple and technology community. MacBlogz.com allows users to browse the most recent, important and up to the minute news related to Apple and the hi-tech world from one carefully designed and highly organized website.
The concept for MacBlogz arose roughly 3 months ago during a routine workday at Think Brilliant Media Studios. Ever since the unveiling of the Apple iPhone last January, there has been a tremendous growth period online for the Apple, Mac and tech related communities. Sites like MacDailyNews, AppleInsider and MacRumors have swelled into trusted names online and proven resources for industry related news. Being passionate fans and highly involved tech lovers, Think Brilliant decided to organize the community into one convenient place so that industry news is highly accessible with one click and an internet connection.
"MacBlogz is a fantastic resource for bringing together the latest content about everything Mac. You're not just getting aggregate content -- there's a passionate community behind it. You're getting human elements and wonderful community interaction from one place." said Tom Fite, Senior Applications Developer.
The wonderful thing about MacBlogz.com is that it's so accessible, once you bookmark the site, it's one-click away at all times. Creating a direct icon link on the homepage of your iPhone or iPod Touch works great too! MacBlogz works hand-in-hand with the vision and essence of the Apple and Mac community. Through careful organization, rigorous development and planned layout methods, Aviv, Dave and Think Brilliant are able to take an established news market and contribute with passion and most importantly, creativity.
Although MacBlogz.com launched a few days ago, many readers have already discovered how wonderfully accessible the site is. "Please don't change anything, it's perfect!" reader Michael writes. "Your site gets it. It's laid out beautifully and extremely informative. It simplifies my quest for Apple news", reader OS writes when comparing MacBlogz to another Apple news source. "I just wanted to give you guys props for the amazing design. The site is super simple to navigate, not bombarded with advertisements, and communicates its vision brilliantly. Keep up the great work....I can't wait to see the direction this site takes. Congrats on a successful launch!", writes another satisfied reader.
"We confidently pride ourselves on our obsessive nature. In this field, being compulsive about your work is looked upon in a positive way and obsession brings out the best results. Here at Think Brilliant, and especially with MacBlogz.com we specialize in both perfecting our work and contributing the best we can." said Aviv Hadar, co-founder of MacBlogz.com and founder of Think Brilliant Media Studios. "Dave ([Fields], MacBlogz co-founder) and I are ready to share our passion and love for the community with MacBlogz.com. I personally can't wait to see how excited people become when they realize how accessible and convenient the site is."
For more information, or to test out MacBlogz for yourself, visit MacBlogz.com
Contact:
MacBlogz co-founders
Aviv Hadar & David Fields
Think Brilliant Media Studios, LLC.
877-TBMS-101
info @ macblogz.com
info @ thinkbrilliant.com
About Think Brilliant Media Studios: Think Brilliant Media Studios is an up and coming media development company. Both specializing in client projects and in-house development, Think Brilliant prides itself on web standards, ethics, open communication and great development practices.
# # #