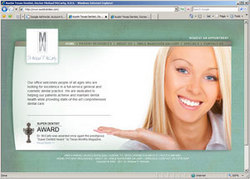 Technology has never intimidated me, instead, it has always given me opportunities to better serve and satisfy my clients
Austin, TX (PRWEB) May 19, 2008
Dr. Michael McCarty, owner of AustinSmiles.com and a successful Austin Dentist, has been a leading professional in the cosmetic dentistry world for many years. Always on the cutting edge of his field, Dr. McCarty is once again setting a trend that will most likely be followed by other professionals both in his field and others. Dr. McCarty has always used the latest technology available in his practice and has earned the "Super Dentist" award several times by Texas Monthly Magazine. In addition to the latest technologies and techniques, Dr. McCarty is also offering electronic conveniences to his clients. The newly launched AustinSmiles.com brings a new look and feel, reflecting the modern installations of the practice. The site allows patients to learn about the services offered as well as to ask the doctor questions and schedule online appointments.
"Technology has never intimidated me, instead, it has always given me opportunities to better serve and satisfy my clients," says Dr. McCarty. A practice specializing in implants, veneers and a number of other cosmetic and general dental services, Austin Smiles has embraced the information age in an effort to offer convenience to its clients by making services available online, via email, and via cell phone.
Today, a new or existing client can fill out a form at http://www.austinsmiles.com to schedule an appointment. Appointments are confirmed electronically through e-mail or text messages, and a text message is sent to the client's cell phone to remind them of their appointment. HTML auto-reply emails, birthday cards, newsletters, helpful information and a number of other services are also available at AustinSmiles.com. The best feature of all these services? They are fully automated. This system bridges the gap between doctor and patient and keeps effective communication alive with clients even outside of office hours.
While Dr. McCarty is always one of the first professionals in his field to implement new technologies, it is important to him and his team to still have a very personal connection to their clients. "You can have all the automation available. If you offer no personal care and attention to your clients, they will look for someone who will. Automation is here to help, but never to substitute the human element."
Dr. McCarty counts with the help of several other professionals within his practice that are a strong support to his award winning performance. "To maintain our customers fully satisfied is a team effort that we all take very seriously" says Dr. McCarty. The services and conveniences currently offered by the practice of Dr. Michael McCarty are expected to spread through the industry but by then, he'll be onto the next big thing.
For those interested in learning more about the practice of Dr. Michael McCarty, it is located at 6500 N. MoPac, Austin, TX 78731, Bldg 2, Suite 2204 or visit http://www.austinsmiles.com.
###