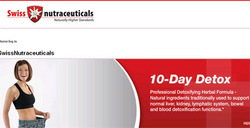 Finally! A detox product that really works but is still comfortable and simple to use.
Ballwin, MO (PRWEB) May 15, 2008
A new gentle whole body cleanse ideal for those with busy lifestyles is now available from Swiss Nutraceuticals at swissnutra.com. 10-Day Detox is a proprietary herbal blend created to address five channels of detoxification when used alone, or all seven channels of detoxification when used in conjunction with the free resistance band and exercises. Chiropractic and naturopath Dr. Rene Gassner designed 10-Day Detox with herbs traditionally used to provide support to the kidneys, liver, bowel, lymphatic system and blood detoxifications processes.
For a limited time, free shipping and handling, a free resistance band with suggested exercises, and a free food planner and guidelines will accompany shipments of the natural body detox program.
10-Day Detox scientific advisory panel member Dr.Ron Schoolman, DDS, emphasizes the value of the body cleansing detoxification program, especially for those with busy lifestyles who don't wish to be "chained to the bathroom" while they undergo a whole body cleanse: "Finally! A detox product that really works but is still comfortable and simple to use."
Detoxification is encouraged by some medical specialists as a way of helping individuals regain functionality and strength by clearing the body's systems of toxins that can sap energy or block normal functions. Used as an alternative to drugs and medications, natural body detox programs like 10-Day Detox represent efforts to allow the body to heal itself naturally.
To ensure quality and adherence to manufacturing guidelines, a scientific advisory panel was enlisted to assist with formulating, developing and testing 10-Day Detox. Panel member Dr. Alex Vayman, M.S., Pharm.D. affirms the product's effectiveness: "This 10-Day Detox is as close to the perfect formula as it gets. Scientifically formulated yet all natural. A truly marvelous product."
Used and recommended for use by pharmacists, Ph.D. scientists, therapists, and chiropractors, the natural body detox currently has gained approval by both standard and allopathic medical practitioners. 10-Day Detox is manufactured according to current Good Manufacturing Processes, Standard Operating Procedures that document and track from the selection of raw materials through packaging, Vendor Qualification Program for quality assurance to vendors, in-house laboratory analysis of all ingoing and outgoing materials, and independent auditor inspections.
For more information about 10-Day Detox and Swiss Nutraceuticals visit swissnutra.com.
About Swiss Nutraceuticals:
Christian-based and concerned with providing busy individuals with a way to gain greater health without drugs or medications, Swiss Nutraceuticals develops and manufactures 10-Day Detox. With the Resistance Band, individuals can utilize this at home body detox and gain healthier functioning and greater strength. Founder Dr. Rene Gassner, who grew up in the Swiss Alps, began by formulating and mixing his own supplements for patients in his clinic, based on an appreciation of nature's wisdom instilled by his parents and informed by the knowledge gained as a naturopathic medical doctor. As interest in his formula grew, Dr. Gassner began efforts to standardize and manufacture what is now 10-Day Detox.
###