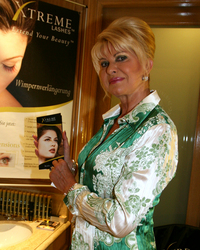 Cannes, FR (PRWEB) May 15, 2008
Xtreme Lashes® (http://www.xtremelashes.com)], the premier eyelash extension brand, returns to the Cannes Film Festival, one of the oldest and most influential film festivals in the world. Year after year, the plethora of art cinema attracts movie lovers, top international film stars, trendsetters, powerful decision makers and premier luxury brands. At the 2007 Festival, Xtreme Lashes® stylists lashed the likes of Ivana Trump and Hofit Golan.
This year, Xtreme Lashes® president and founder, Jo Mousselli, the woman responsible for this new revolution in beauty, will be present to answer any questions about this exclusive service, which is rapidly sweeping the globe. Led by Training Director, Noor Daoudi, creator of the innovative X-Technique, the top stylists from Germany, France, Italy, United Kingdom and the US will apply lashes to the world's elite at its most prestigious festival.
Xtreme Lashes® and "Golden X", its legendary X logo, can be found at Riviera Lounge at NIKKI BEACH from May 15th through the 22nd. The celebrity gift lounge will be hosted to introduce exclusive products to the who's who in the film industry. Witness an application by the world's top lash stylists at The Riviera Lounge or aboard the Yacht Escape. For longer, more voluminous movie star-like lashes, be sure to visit these Xtremists; they can create camera-ready looks for anyone.
One-by-one, Xtreme Lashes® are adhered to the natural lash and will stay in place until that human lash sheds. Be sure to set aside one to two hours for an experience that is well worth your time! The end result has been equated to an instant eyelift: it can make you appear more youthful, rested and put together. The best news is they'll last well beyond the festival, through tearjerkers and all.
About Xtreme Lashes®:
Xtreme Lashes® are synthetic strands shaped like a human eyelash. They are applied one at a time to natural lashes for a feathery, light-weight look and feel. With the largest variety of lengths, thicknesses, colors and curvatures, Xtreme Lashes® can be styled to suit any look or occasion.
About Xtreme Lashes LLC:
Since Xtreme Lashes' inception in 2005, the Company has developed its business based on the connection between beauty and a commitment to safety and hygiene. Xtreme Lashes® has evolved into the leader of the eyelash extension industry due to research and development and required hands-on training. Products and training are provided throughout the world in 25 countries and growing.
# # #