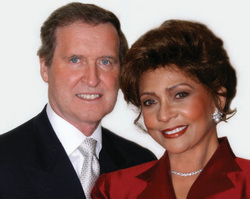 We want to heighten awareness and focus attention on tolerance and reconciliation
Washington D.C. (PRWEB) May 15, 2008
Playwright and television journalist Janet Langhart Cohen, with her husband former U.S. Secretary of Defense William S. Cohen, announced today the official launch of a series of forums on race, religion and tolerance to be held this summer and fall in New York, Washington D.C. and Boston.
Using her riveting play "Anne & Emmett" as a catalyst, the Cohens, who are of Black and Jewish descent, will continue the dialogues on racism, religion and reconciliation started earlier this year in Israel and Boston. Given what is currently happening on the national political scene, they feel that these forums are both timely and necessary.
"We want to heighten awareness and focus attention on tolerance and reconciliation," said Janet Langhart Cohen. "We as Americans can become the world's teacher on pluralism, diversity, tolerance and inclusion."
The dialogues started in Israel in January, when the Cohens made history by bringing together for the first time Israeli and Arab college students to hear excerpts from and discuss "Anne & Emmett." They continued in April in Boston, where "Anne & Emmett" had its theatrical debut at Emerson College. Afterward, the Cohens engaged more than 200 people in a dialogue on the issues and themes of the play.
The Cohens are reaching out to high-profile individuals to serve as panelists for the "Anne & Emmett Dialogues," and plans are already under way for events in New York, Washington and Boston.
"Anne and Emmett," is a fictional conversation between Anne Frank and Emmett Till, teenagers who were murdered, one because she was Jewish, and the other because he was black. The play reveals through dialogue the commonality of the struggles shared by the Jewish and Black people. Their stories both inspired and informed social awareness and positive change around racial, religious and ethnic differences in the United States and abroad. It offers the chance to open a dialogue on anti-Semitism and racism.
Please see a review of the play at http://www.baystatebanner.com/issues/2008/04/17/arts/arts04170841.htm
###